Emerging stronger together
VCU remains steadfast in its commitment to the community
By Michael Rao, Ph.D., President, VCU and VCU Health System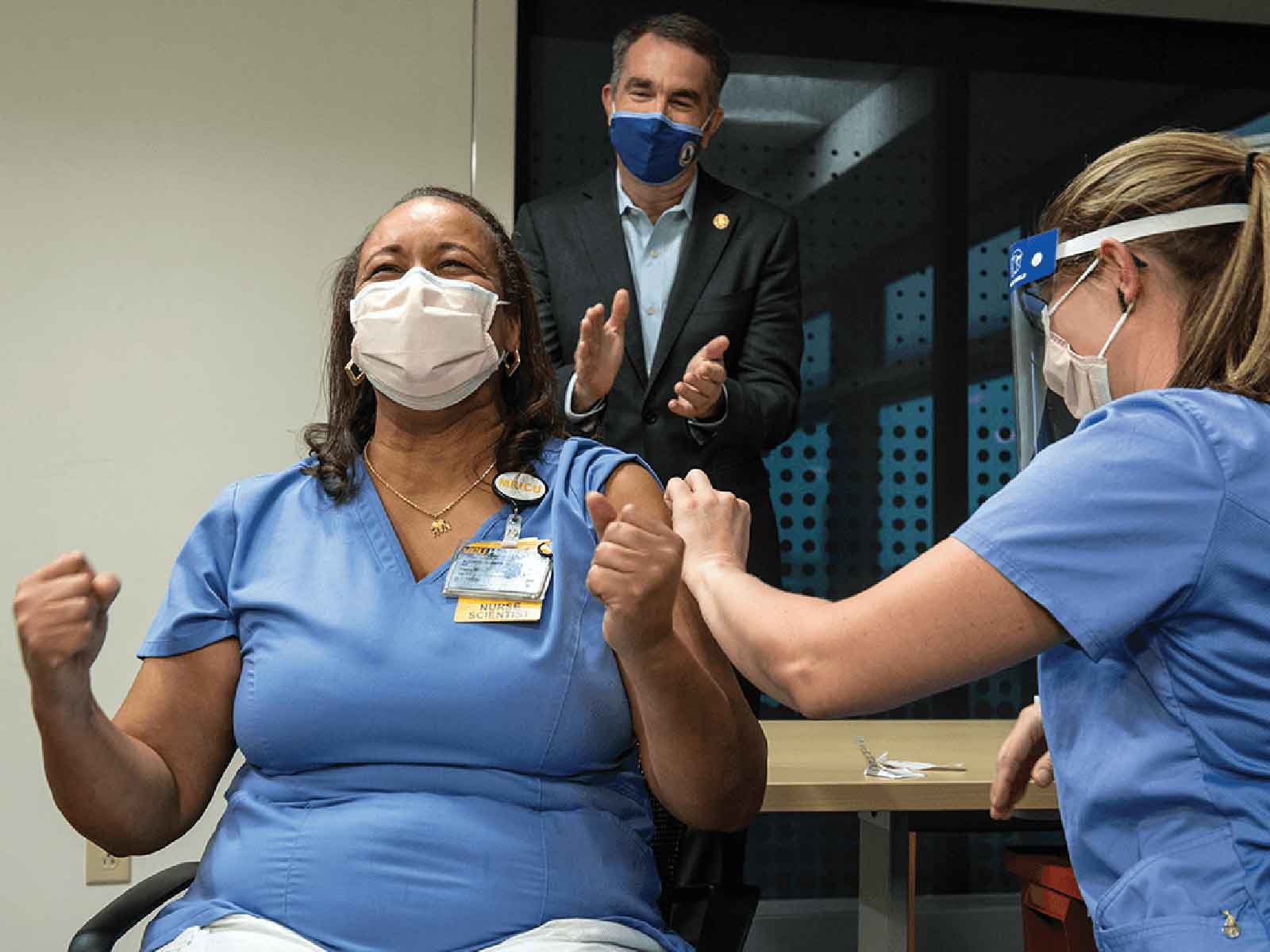 During my annual State of the University address in February, I spoke of the work of the VCU and VCU Health community to serve and ensure everyone has the chance to learn and receive the care they need. I spoke of meeting Audrey Roberson, Ph.D. (M.S.'92/N; Ph.D.'18/N), a team member with VCU Health, while making rounds. Dr. Roberson manages our medical respiratory ICU and was on duty when the first COVID-19 patient came to VCU Health for care in March 2020. Dr. Roberson was also the first VCU Health employee to receive the COVID-19 vaccine in December. Her dedication to providing world-class care to all was evident when she told me, "We are here to support this community. And we will not let them down."
Together, we faced incredible challenges but remained dedicated to the community. The COVID-19 pandemic changed how we teach, learn, treat and interact with one another. Social justice movements caused us to think more deeply about our place in the world and how we can make it a more equitable place for all human beings, work that's long overdue.
We're emerging stronger together and are even more dedicated to leading transformative change in individuals, communities and at our university and health care center. This issue of the alumni magazine showcases the necessary and hard work of VCU alumni, students, faculty and staff to advance humanity.
Inspired by local and national conversations about police reform, VCU Police leaders are working to realign the department to put a greater focus on community public safety needs. The department's participation in the One Mind Campaign adds needed mental health awareness and resources.
In this issue, you'll also learn how our Center on Health Disparities is guiding our work to prioritize treatment for those with urgent health care needs. VCU Massey Cancer Center's recent 25 for 25 initiative raised awareness of cancer health disparities in the community and raised funds for our researchers dedicated to creating a future without cancer.
The Carnegie Foundation recognizes VCU as a place with very high research activity and community engagement. Our students embrace these designations, and I'm so grateful for their dedication to learning and serving. As a member of the VCU family, you'll feel great pride and hope as you read about their work to improve health outcomes in underserved communities and as advocates for those experiencing unstable housing. Our students lean into challenges, and I know they'll continue to achieve and advance humanity as VCU alumni.
This year is the 10th anniversary of the VCU Rams reaching the NCAA Final Four. Our journey to the Final Four was truly exhilarating.
I hope you enjoy the article and web extra as much as I did. Thank you for reading about VCU's work as educators, creators, healers, entrepreneurs and change-makers.