Supporting students and pursuing her passions
Frances Burch's latest contribution: a gift to the university's Invest In Me student scholarship initiative
By Kyra Molinaro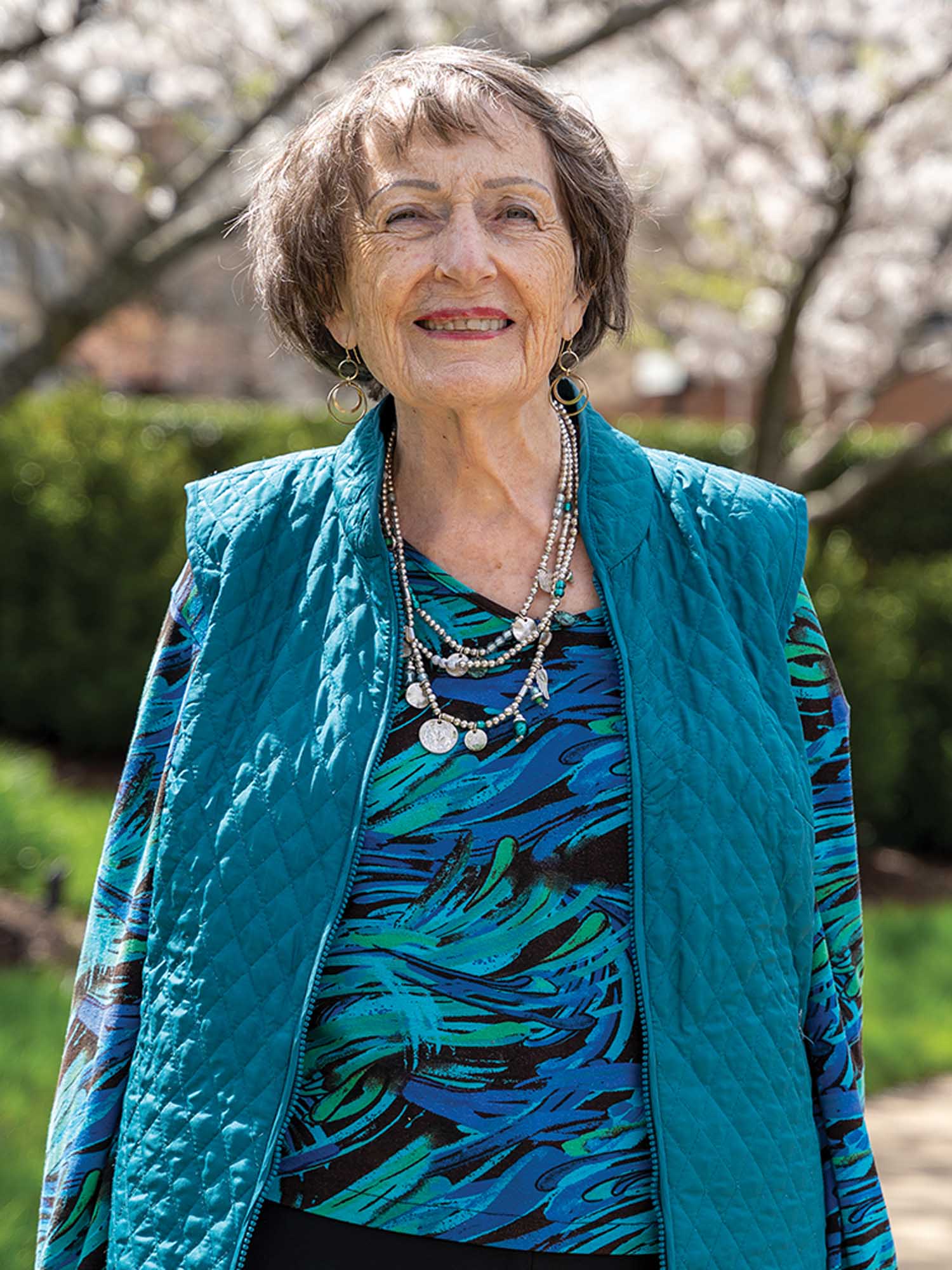 Frances Burch (B.M.E.'53/A) has never been afraid to pursue her passions, even at 90 years old. As a supporter of the Invest In Me student scholarship campaign at Virginia Commonwealth University, Burch aspires to make a difference by giving back to the institution that gave her a lifelong love of learning.
A native of Bowling Green, Virginia, Burch studied at Stephens College in Columbia, Missouri, and Westhampton College (now part of the University of Richmond) before settling at Richmond Professional Institute, a predecessor to VCU, to study music education.
"I tell people that it was three angles of a triangle — I learned something at each place," she says. "But I belonged at RPI. There was definitely a difference from the others. I remember thinking then, 'If this school had more funding, it could really fly.'"
After graduation, Burch worked as a fourth-grade teacher at Sandston Elementary School in Sandston, Virginia. "I never thought I'd be a teacher, but I just adored it," she says.
She met her husband, Charles "Dick" Burch III, M.D. (M.D.'54/M; H.S.'59/M), at a wedding in which her best friend married his best friend (she was the maid of honor and Dick was the best man). They married a year later while Dick completed his medical degree at the Medical College of Virginia (MCV and RPI merged to form VCU in 1968). He was called into military service after he graduated, so the couple moved to France in 1955, living there for nearly two years while Dick served as an Army physician.
After they returned to Richmond, Dick completed a pediatric residency at MCV and then opened a private pediatrics practice while Burch stayed home to care for their three children. Two of them — David Burch (B.S.'81/B) and Carol Thedieck (B.S.'82/MC) — went on to graduate from VCU as well.
Years later, Burch enrolled at VCU's School of Education to learn about teaching children with learning disabilities. "I realized that I wouldn't be able to handle a full classroom, so I did not follow through [with a degree], but I volunteered with special needs children for many years," she says.
Burch says that interest in special education has come full circle: She was better equipped to support one of her granddaughters, who had a learning disability growing up. Another granddaughter now teaches children with autism.
Burch also has pursued a passion for painting and creative writing. In 1986, she and two colleagues founded an art colony offering professionally taught artist (and eventually writer) workshops at Nimrod Hall, a historic summer resort in Virginia's Bath County. The successful venture continues today. Additionally, several of Burch's essays, stories and memoirs have been published in literary journals. Today, she teaches writing classes at Westminster Canterbury in Henrico County, Virginia.
Dick Burch died in April at age 93. He supported many programs at VCU over the years, including the School of Medicine, School of the Arts and VCU Life Sciences. When Frances made her gift to support the Invest In Me campaign in 2019, she included a personal note with her donation, sharing her experience as an RPI student and marveling at the university's growth over the past seven decades.
"Students today need to know a lot about everything, and that's not easy for a college to teach," she says. "VCU now offers students a plethora of choices, building its image into an integral part of our city and state."

– Kyra Molinaro (M.Ed.'21/E; Cert.'21/GPA) is a contributing writer for the alumni magazine.