In 1917, a group of community leaders established the Richmond School of Social Economy, an education program for social workers and public health nurses dedicated to addressing the social and health concerns of urban life in Richmond, Virginia.
"The laboratory of a school of social workers is not located in a building like a laboratory of chemistry or physics," Henry Hibbs, the school's founder, said in 1917. "The social worker's laboratory is the whole community."
The Richmond School of Social Economy would go on to become the Richmond Professional Institute of the College of William & Mary and, eventually, Virginia Commonwealth University. Today, that original core value of community engagement remains intact at VCU and attracts students from all disciplines, who aim to use their time on campus to lead change on campus and beyond. Meet three VCU students whose community work is making a difference in the lives of others.
---
Sarah Henderson
School of Pharmacy, Class of 2022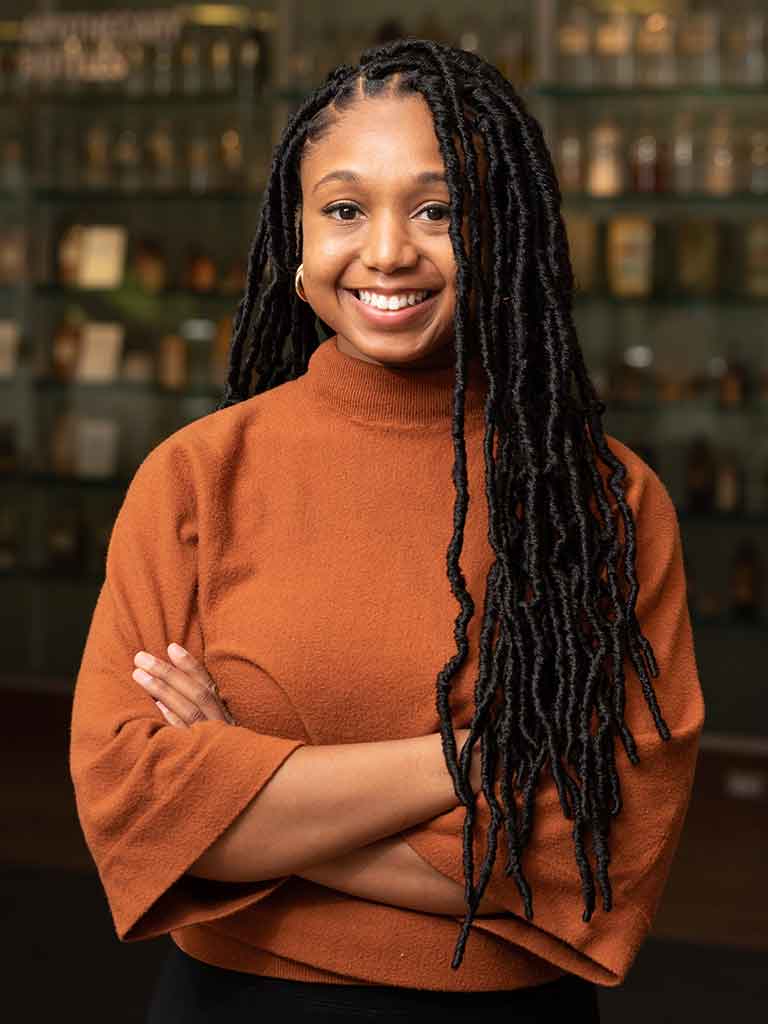 Sarah Henderson earned her undergraduate degree at the University of North Carolina Chapel Hill, where she was active in social justice and advocacy. As a Pharm.D. candidate in the VCU School of Pharmacy, she's passionate about how social justice issues relate to health education and health care access.
"The field of pharmacy encompasses all my passions for social justice, public health and medicine," Henderson says. "It's really important to me that health care professionals approach patient care with a person-centered focus and take the time to listen, acknowledge and support community members to better improve public health. Educating others on the safety and efficacy of their drugs, or any matter related to their health and wellness, is a form of social justice that I am proud to continue as a future pharmacist."
Henderson is involved with the VCU Health Hub at 25th, a health education and wellness activity center in Richmond's East End. She is also active in the Student National Pharmaceutical Association, a service association that focuses on improving health outcomes in minority communities and expanding minority representation in pharmacy and health care.
What aspect of community change is your focus?
I'm trying to be an agent for change in empowering people and providing them with the information they need to have a better understanding of their health and the medications they take. I'm passionate about making sure the change I aim to make is sustainable and accessible to people of all ages and backgrounds.
What do you think the key is to achieving the change you'd like to see?
It takes a lot of listening and connecting to build a collaborative relationship with a patient. Pharmacy work is constrained by time, so it's really important to use that time to listen to patients and understand what they need. You want people to be comfortable talking and asking questions. Plus, if you take the time to build that relationship with someone, they're more likely to listen to your advice.
Who is your greatest inspiration?
I have to give props to my parents. My dad works for a pharmaceutical company, and my mom is a nurse, so they were my first exposure to health care and medications. At VCU, faculty members Kelechi Ogbonna, Pharm.D. (M.S.H.A.'17/HP), Emily Peron, Pharm.D., and John Bucheit, Pharm.D. (Pharm.D.'12/P), have been really encouraging and supportive.
What is "your VCU" in 3 words?
Resilient. Inclusive. Impactful.
Where are you most likely to be found on campus or around town?
I'm most likely at Chimborazo Park or in Church Hill. If I'm on campus, I'm probably in the Robert Blackwell Smith Building.
---
Amelie Rives
Wilder School, Class of 2021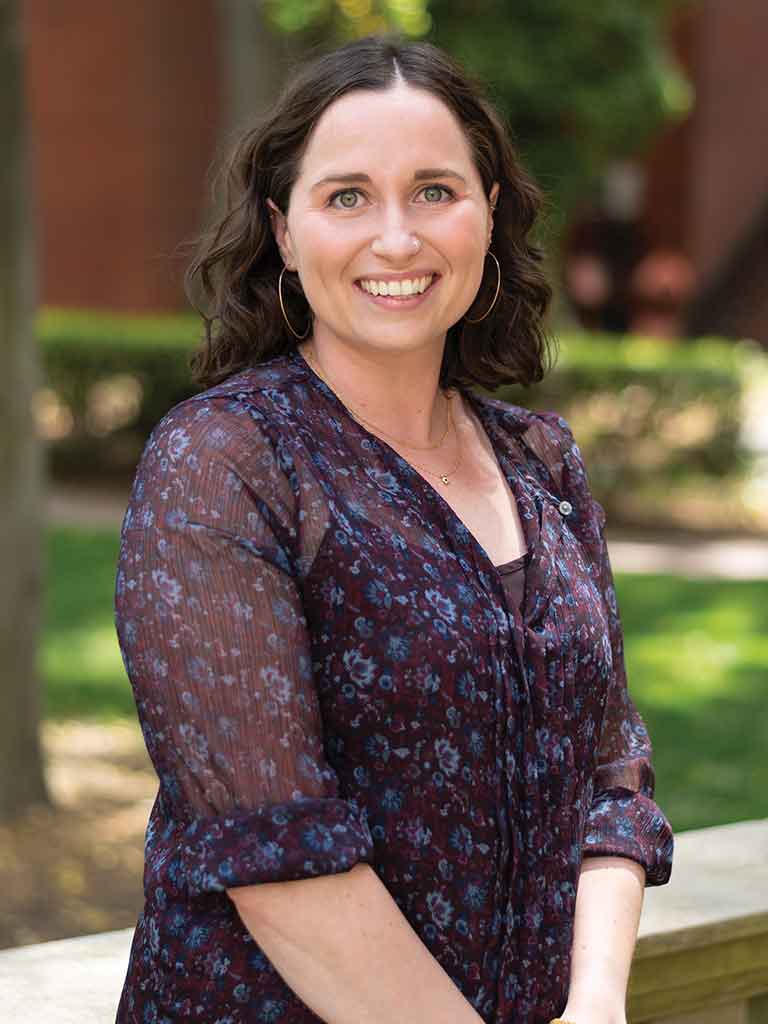 Amelie Rives was drawn to the VCU L. Douglas Wilder School of Government and Public Affairs by the school's prestigious Graduate Scholars Fellowship program.
"When I moved here in 2019, I didn't know anyone," she says, "but I knew I was ready to get more involved with intentional community engagement."
As a Wilder Fellow, Rives earned her master's in urban and regional planning, while gaining valuable experience through hands-on projects with the VCU RVA Eviction Lab and Virginia Community Capital. Much of her work has focused on inequity issues and community revitalization.
"I love being a part of a team that focuses on change-making and on diversity, equity and inclusion work," Rives says. "My position at Virginia Community Capital helps with research and making sure that our community impact is as holistic and beneficial as possible."
What aspect of community change is your focus?
Whether you're a planner, a nonprofit professional or a corporate business developer, you need to intentionally and carefully engage community members. My approach is to ensure that everyone has a seat at the table from the get-go. It's important to make sure that community voices are central in changing the community.
What do you think the key is to achieving the change you'd like to see?
Funding is essential to making change. It's also important to make the process as accessible as possible. When you engage the community, you need to meet at convenient times in convenient locations within the community. You have to think about making accommodations for attendees, such as providing child care or allowing people to bring their children with them.
Who is your greatest inspiration?
I met Elaine Williams (B.S.W.'17/SW), the director of RVA Thrives at Virginia Community Capital, during the first year of my fellowship. Working with her has greatly influenced my passion for community engagement and listening to the community's vision.
Has anyone at VCU been particularly influential?
Kathryn Howell, Ph.D., and Benjamin Teresa, Ph.D., who run the RVA Eviction Lab, have harnessed the concept of using data to move the needle on important policy change. They make data, such as the number of evictions per month and who is impacted by eviction, readily available, which really helps show where change is needed.
What is "your VCU" in 3 words?
Community. Support. Hard work.
Where are you most likely to be found on campus or around town?
Riding my bike to Belle Isle.
---
Shauntelle Hammonds
School of Social Work, Class of 2022
"As a trans person in long-term recovery, I've experienced the lack of care and knowledge of how to support people like me that is prevalent in recovery support, communities and housing," says Shauntelle Hammonds, 35, who experienced homelessness several years ago while working to overcome alcohol and drug addiction.
Though she had several discouraging experiences, she found safe sober housing and continues to progress in her recovery. Last summer, Hammonds co-founded Peter's Place, a sober house in Richmond, Virginia, that provides compassionate and accessible housing, resources and trauma-informed care to LGBTQIA+ individuals seeking personalized recovery support.
"I had the privilege of finding support so I feel like it's my duty to give back," she says.
Hammonds is earning her bachelor's degree in the VCU School of Social Work with the goal of earning her master's and becoming a licensed clinical social worker.
What aspect of community change is your focus?
I want to provide a community of support for trans-identifying folks and bring awareness to their needs, the lack of services available and the exclusion they experience in the majority of places they attend.
What do you think the key is to achieving the change you'd like to see?
We need to improve education and establish actionable policies and procedures on how to support the trans community as well as consequences for when that support is not offered and when discrimination happens. Learning how to be more inclusive and what language should be used are important steps in the right direction.
Who is your greatest inspiration?
I'm inspired just knowing that someone will have access to the care they deserve or that someone's life might change by just having safe, affirming housing. No one should have to hide their self in order to receive the care they need to be healthy.
Has anyone at VCU been particularly influential?
Tom Bannard (M.B.A.'16/B), program coordinator for Rams in Recovery, has been a big influence. When I met him, I had been a hairstylist and wasn't even thinking about going to school to be a social worker. He has taught me so much about working with people with substance-use disorders and inspired me to get into this field.
What is "your VCU" in 3 words?
Diverse. Urban. Progressive.
Where are you most likely to be found on campus or around town?
I love the people, environment and community at the Recovery Clubhouse on campus, so I'm either there or hanging out with my residents at Peter's Place.