Building community
VCU inspires alumni couple's real estate ventures
By Kyra Molinaro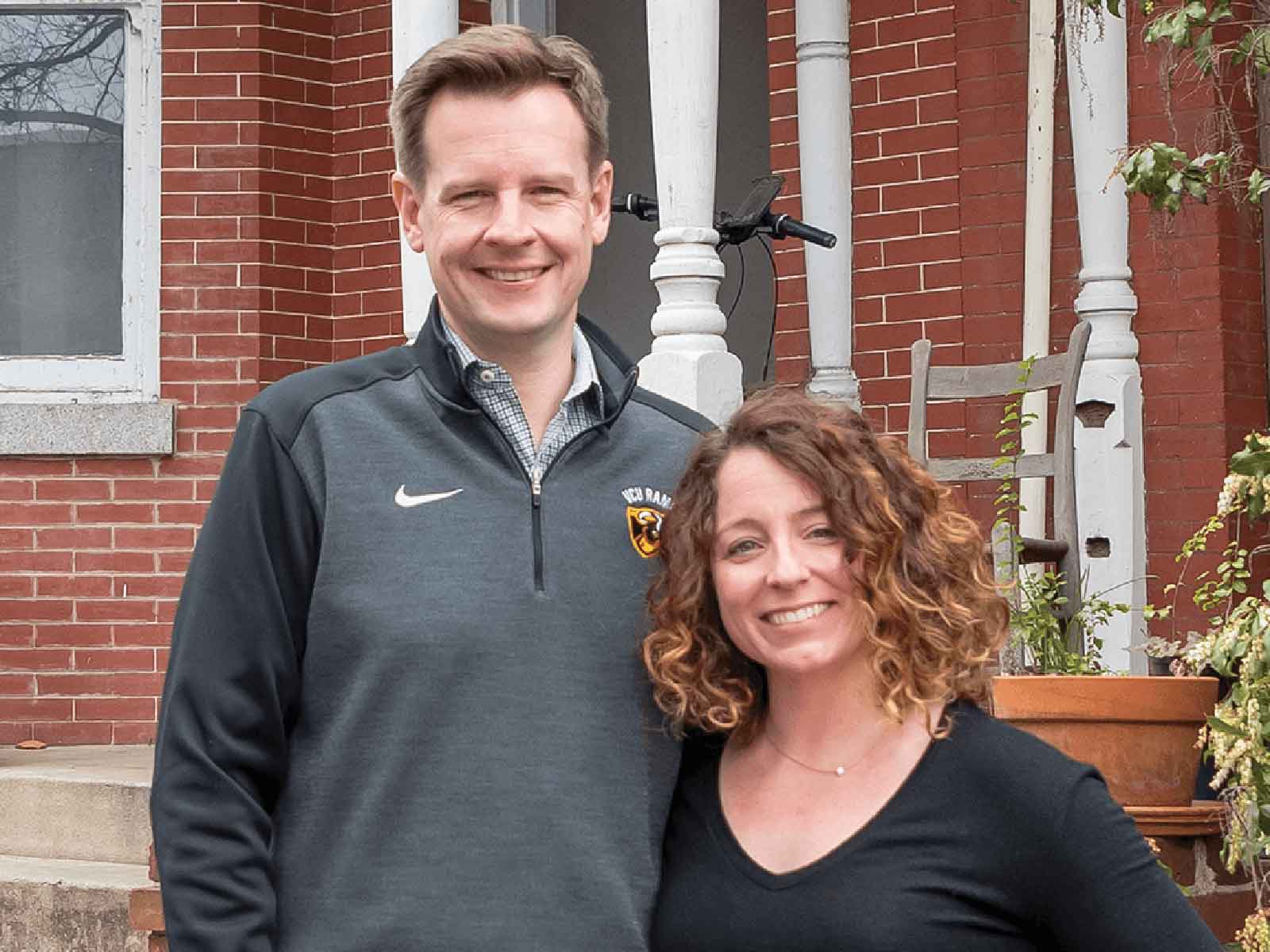 Most Virginia Commonwealth University students spend their undergraduate years living in on-campus residence halls or renting off-campus apartments. Not Brian (B.S.'02/En) and Jessica (B.S.'02/B) Haug. They purchased their first home as VCU juniors.
A Hampton Roads, Virginia, native with a strong entrepreneurial drive, Brian Haug says he noticed that mortgage interest rates at the time were decreasing while property values in downtown Richmond were increasing. He worked two part-time jobs to save up money for a down payment while paying for his education. With the help of his father as a co-signer on a Federal Housing Authority 203(k) renovation loan, in 2000, Haug and his then-girlfriend, Jessica, purchased a property in Richmond's historic Fan District.
"I knew I was going to pay rent one way or another, so I thought, why not buy a duplex, rent out half of it, and pay the difference?" he says. "It ended up being less than what I would have paid in monthly rent. After living there a year, the value of the property went up, so we began renting out both sides of the duplex and moved to Midlothian to start a family."
This investment sparked a new career path for Haug, who today serves as senior vice president for real estate and mortgage at Long & Foster, where he also oversees the firm's operations in Richmond, Hampton Roads and southwest Virginia. In addition, he and Jessica own and manage 30 properties in the greater Richmond area including the Fan house, which Haug says is the "heartbeat of their properties."
Jessica Haug says her VCU business education serves her well as she manages the day-to-day operations of their real estate investments.
"VCU laid the foundation for everything really, not only in meeting my husband and deciding to stay in Richmond, but in how we run our business, which is very pivotal in our lives," she says.
Brian Haug says his time spent in the VCU College of Engineering influenced his interest in real estate after he witnessed the 1998 opening of the college's first planned facilities, West Hall and the C. Kenneth and Dianne Harris Wright Virginia Microelectronics Center.
"I saw firsthand the transformative impact that real estate can have on a community," he says. "After that, VCU decided to renovate parts of Grace Street, which was not a great place to be at the time. The decision to invest in new properties brought in more people who wanted to open businesses and be part of the community."
Haug remains inspired by the concept of community development as he and Jessica continue to build and grow their real estate portfolio.
"I view owning real estate as being an integral part of ensuring the community is growing and continuously improving," he says. "As private owners, we enjoy caring for our properties and our tenants to ensure they have a good living space."
The Haugs are also longtime supporters of VCU, not only as loyal volunteers and donors but also as investors in historic properties around VCU's Monroe Park Campus.
"I can remember living in the dorms and walking around campus and just being so mesmerized by Richmond's architecture," Jessica Haug says. "Being able to preserve that history while giving back to the community really makes us feel good."
– Kyra Molinaro is a contributing writer for the alumni magazine.