A dental school Ramily tree
An alumni family's VCU roots at the School of Dentistry now span generations and campuses
By Brelyn Powell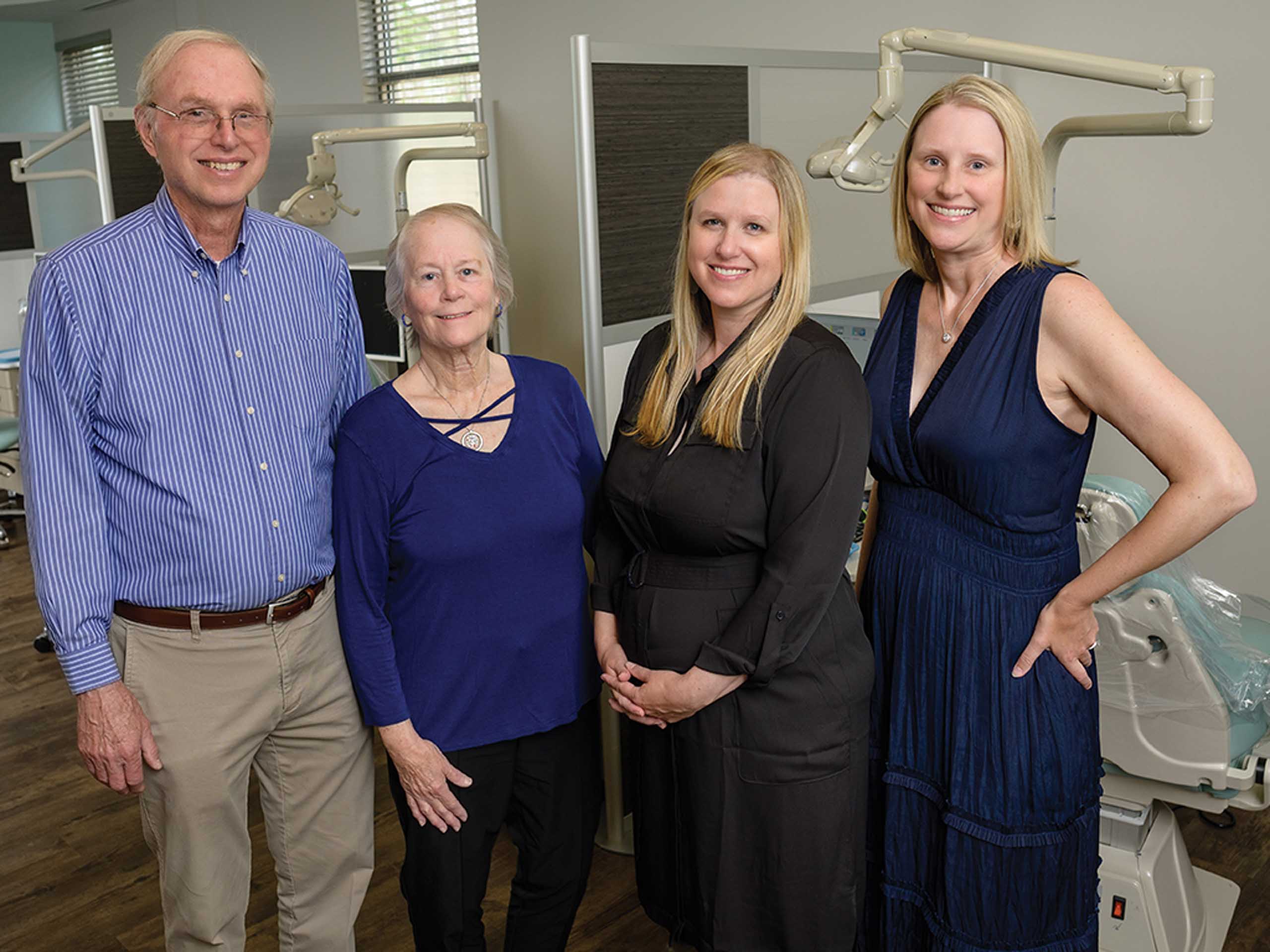 In the 1970s, Carol Klima (B.S.'72/H&S; B.S.'74/D) and Rodney Klima, D.D.S. (D.D.S.'74/D; Cert.'76/D), unknowingly started a family tradition when they graduated from Virginia Commonwealth University. Decades later, their daughters, Katie Berkman (B.S.'05/D) and Michelle Toms, D.D.S. (D.D.S.'08/D), followed in their parents' footsteps, pursuing careers in dentistry with a VCU education.
Today, 10 branches of the family tree share VCU as their alma mater, and all see the university as an integral part of the family.
"It's a special place that has brought us all together, shaped our lives and enabled us to create a strong future for our family," Toms says.
Establishing roots
The Klimas came to VCU in 1970 — Rod for his first year of dental school and Carol as a transfer student completing her sociology degree. They married in 1971, and by 1972, Carol had earned her bachelor's degree and made the decision to enroll in the VCU School of Dentistry's Dental Hygiene Program. They lived in Jarrett Apartments, which provided subsidized housing for married VCU students.
"Most residents were dental or medical students," Rod says. "Rent was anywhere from $84 to $129 per month, and even then, most of us worked jobs in the hospital during the nights while we had time during the last two years of dental school. Some worked in the blood bank, others became experts in catheterization. I ended up working in the pediatric emergency room."
Dentistry students, and particularly those in Rod's class, shared a strong sense of fellowship, he recalls.
"In the summertime, we had a dental school intramural basketball team," Rod says. "It really added to the camaraderie. We all stayed so busy and worked so hard in classes, clinics and our jobs, so things like that were therapeutic for all of us and added so much to our experience."
The Klimas' time in the School of Dentistry spanned the tenure of the school's former dean, John A. DiBiaggio, D.D.S., whom Rod credits with ushering in a renewed focus on experiential learning.
Carol agrees.
"We learned and practiced in such varied settings," she says. "There were so many opportunities to look up from our textbooks, get out of the clinic and participate in hands-on learning with real patients."
After the couple completed their degrees in 1974, they remained in Richmond for Rod to complete a residency in orthodontics. They eventually settled in northern Virginia to start their lives — and an orthodontic practice, Klima Orthodontics, now Burke Family Orthodontics — together.
"Dentistry is extremely rewarding, but it's not easy," Rod says. "You have to put everything into it to become confident and competent, and my time in the School of Dentistry set me up for that. I've practiced for over 40 years now, and some of my classmates are still practicing as well. We all love what we do. That's a gift that VCU gave to us and continues to give to students today."
Lasting impressions
Three decades later, the Klimas' daughters, Toms and Berkman, both recently graduated from James Madison University, decided to pursue dental careers. VCU was the only school they considered.
"Our parents loved their time at VCU," Berkman says. "Growing up hearing about their great experience made us want to go there, too."
Toms enrolled in the VCU School of Dentistry's D.D.S. program around the same time that Berkman began in the school's Dental Hygiene Program, so the sisters navigated their time at VCU side by side. They lived together and spent their free time exploring campus and Richmond. Berkman even introduced Toms to her future husband, Kevin Toms, D.D.S. (D.D.S.'06/D; H.S.'08/M), whom Berkman knew from JMU.
"Even though it's been almost 15 years, it feels like just yesterday that we were all there together," Toms says. "My husband and I look back on our time at VCU as some of the best years of our lives."
Today, the couple owns Toms Orthodontics and Endodontics in Bristow, Virginia; Michelle is an endodontist and Kevin is an orthodontist. Berkman, meanwhile, is a dental hygienist at Penterson and Booth Family and Cosmetic Dentistry in Midlothian, Virginia.
The sisters each have children, and though they promise to let them find their own paths, both share a hope that they will find their way to VCU. Their extended VCU family tree includes their late aunt, Christine Klima Baer (B.S.'73/H&S), as well as Baer's daughter, Jenna Baer Hart (B.S.'06/B), and son-in-law, J. Wesley Hart (B.S'04/B), and their cousins, Matthew Klima (B.S.'16/B) and Carly Klima (B.S.'18/H&S).
"It's something special that we all share," Berkman says. "We're all so proud to have VCU as our alma mater.

– Brelyn Powell is a contributing writer for the alumni magazine.