The spirit of helping others
Grateful medicine alumnus prioritizes giving back to support students and residents
By Kyra Molinaro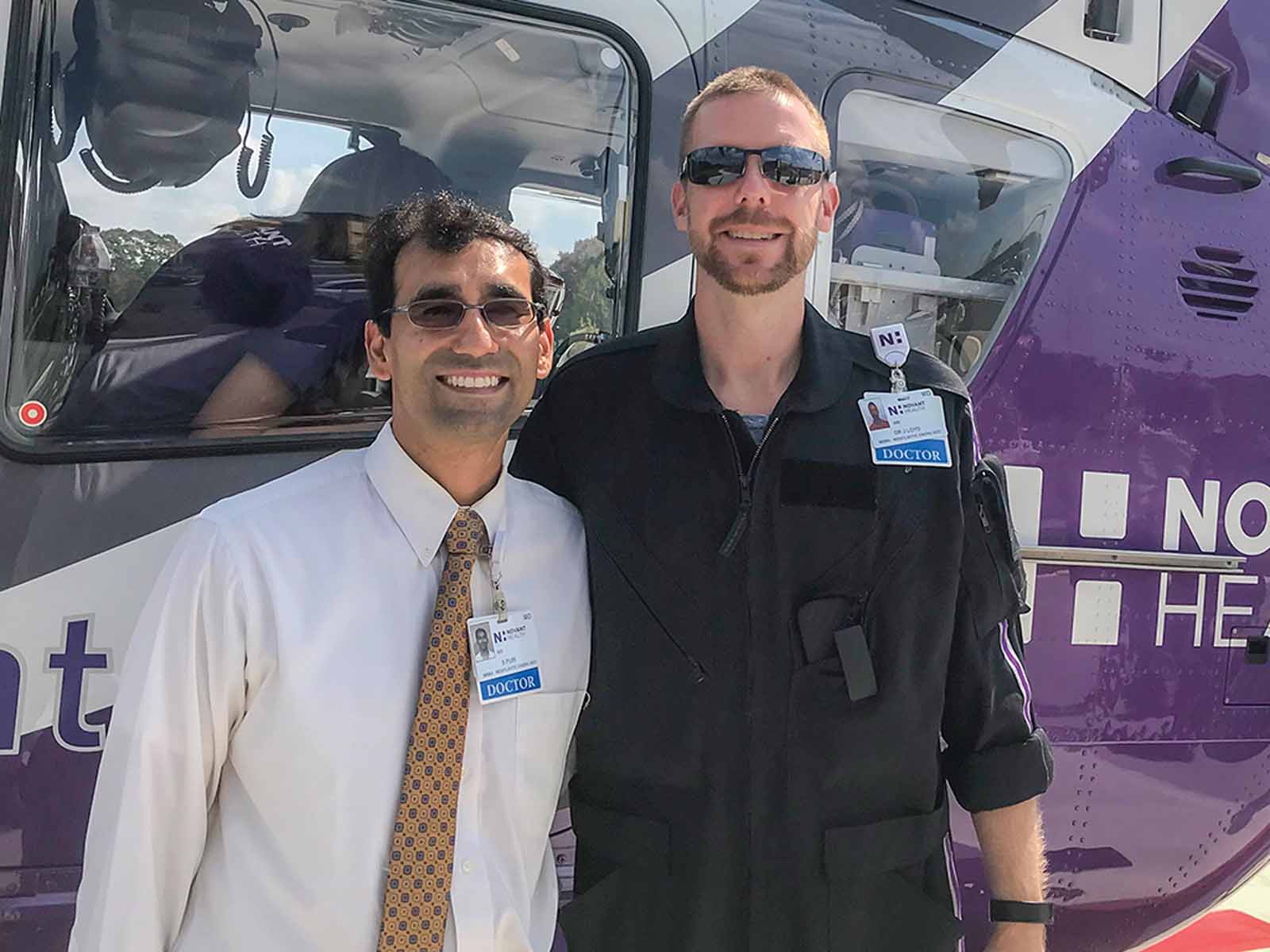 Joshua Loyd, M.D. (M.D.'14/M; H.S.'17/M), an emergency medical physician, has made a career out of helping those in need. His compassion extends beyond his patients. Loyd, who received $80,000 in scholarship support during his time at the Virginia Commonwealth University School of Medicine, prioritizes giving back to his alma mater as a loyal donor to two funds benefiting medical students and residents.
A business graduate of the University of Pennsylvania, Loyd came to Richmond to work for Capital One. After three years, he shifted careers, becoming a firefighter for Chesterfield County Fire and EMS, eventually being promoted to lieutenant.
"In the fire department, most of your call volume is actually medical calls," he says. "I quickly learned that I really enjoyed treating patients and could give back more as a physician."
Loyd completed his medical school prerequisites at Reynolds Community College and started at the VCU School of Medicine in 2010. Over the course of four years, he received merit scholarships totaling $40,000 each from the Aesculapian Scholarships and the Ralph Rosenthal Scholarship.
The generous funding he received prompted Loyd, who graduated first in his class of 191 students, to pursue emergency medicine.
"Unfortunately, when medical students think about a specialty, their decision may be based on how much income they need to pay off their student debt," he says. "Because of the support I received, I had the opportunity to figure out what I really wanted to do without worrying as much about income."
Loyd excelled during his residency at the VCU Department of Emergency Medicine, receiving the highest percentile score among his VCU peers on the American Board of Emergency Medicine training exam.
After completing his residency in 2017, Loyd took part in the EMS Fellowship at Carolinas Medical Center in Charlotte, North Carolina, during which time he received the NAEMSP/Physio-Control EMS Medicine Medical Director Fellowship Award. In 2018, Loyd began his current role at Novant Health as medical director for Novant Critical Care Transport and Novant Med Flight.
"[The medical director role] involves a lot of quality assurance work, chart reviews and training and education for our critical care nurses and paramedics," he says. "When I'm lucky, I get to ride in the helicopter and in our ambulances to do real-time quality assurance."
Since 2015, Loyd has supported VCU through gifts to the School of Medicine Annual Fund, which combines gifts of all sizes to create scholarships for medical students, and the Emergency Medicine Residents Education Fund, which provides resources for resident needs — such as professional development, personal emergency assistance and wellness initiatives, says Joel Moll, M.D., vice chair of education, residency and medical education fellowship program director and associate professor in the Department of Emergency Medicine.
"We spend these funds on our residents to help them grow and build resiliency for work in a challenging field," Moll says.
Because of caring alumni like Loyd, VCU medical students and residents can receive the support they need to have a well-rounded, positive experience, Moll says. "The idea of giving back and helping those who are vulnerable is something that is very much part of what emergency medicine is about, and what I want our program to be. Josh embodies that idea."
– Kyra Molinaro (M.Ed.'21/E; Cert.'21/GPA) is a contributing writer for the alumni magazine.