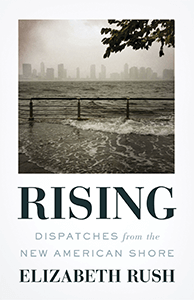 Rebecca Smith (M.S.W.'15/SW; M.S.'19/H&S) values her involvement with the selection committee for the Virginia Commonwealth University Common Book Program because it introduced her to new ways of thinking about social issues.
"It highlighted the importance of interdisciplinary, multifaceted approaches to addressing and understanding complex social issues. The selected books [during my time on the committee] addressed the opioid epidemic, immigration, housing instability, voting rights and climate change," says Smith, a VCU doctoral candidate in developmental psychology who was working as a Graduate Common Book Fellow at the time of her service on the committee.
"I think being introduced to different ways of thinking about these topics has helped me in both my professional and personal life, allowing me to better listen and empathize about challenging topics. It has also taught me strategies to get others, often from diverse backgrounds and fields, engaged and active around important issues."
An initiative in VCU's University College that started in 2006, the Common Book Program builds on the previous Summer Reading program, expanding it beyond first-year students into a universitywide initiative focused on welcoming students into VCU's intellectual culture.
"Having a common book program and subsequent discussions is a good way to introduce students to how we talk about complex issues on campus," says Constance Relihan, Ph.D., dean of VCU's University College. "We also try to have some additional programming such as lectures, movies and panel discussions related to the issues of the book to help showcase the wide range of questions and issues touched on. Students are provided opportunities to explore real-world applications and problem-solving."
Common book programs began in the early 2000s because of research by George Kuh, a leading researcher on student success, indicating that shared intellectual experiences lead to stronger student learning and increased student retention and graduation rates.
"There are several ways to create shared intellectual experiences for students, of course, but a strong common book program has a unique value," Relihan says. "In addition to its role in encouraging student academic success, its value is in what the program contributes to the campus climate as a whole. A strong common book program creates a united campus and community culture. It helps establish a campus identity."
Choosing the Common Book starts with a process
The process of choosing a book each year starts with the Common Book Selection Committee, an interdisciplinary committee with representation from nearly 20 VCU areas, along with undergraduate and graduate student input. Anyone can nominate a book that they think would be a good fit for the program.
The committee sifts through the books submitted, sometimes as many as 200, and narrows the field to eight or nine. It then selects three finalists that are presented to the provost, who makes the final decision on the book chosen.
"We really put a lot of intentional thought and conversation into selecting a book," says Maureen Acheampong (B.S.W.'20/SW), who served on the committee as a student representative from 2017 to her graduation from VCU in 2020. "We would always discuss the relevance of the book at the time, all the way down to whether it was boring or engaging enough for busy students to read."
The book chosen needs to address a complicated issue that is broad enough to connect with a range of disciplines. "It has to be something that can help students expand their horizons and something that faculty feel like they can connect to the issues through their teaching," Relihan says.
Other factors include book length, student enjoyment and availability of the author to visit the campus and speak to students. "Some of the main factors we look for are good topics that are current and relevant to the students," Relihan says.
First-year students discuss the book in their Focused Inquiry courses, while various other classes incorporate the book into curricula.
Smith joined the selection committee in 2017 when the book selected was "Dreamland" by Sam Quinones, which focuses on the opioid epidemic in America, including the events and policies that contributed to its rise.
"I study substance use disorders and recovery processes, a prevalent issue that can (and should) be understood and addressed from multiple aspects and disciplines, so getting involved with the Common Book Program and 'Dreamland' allowed me to broaden my understanding of this issue," she says. "That's one of the things I really like about the program — its emphasis on considering complex issues from multiple perspectives and encouraging readers to think critically."
A common denominator for students
Books are distributed to freshmen before they come to campus.
"We wait until they have enrolled in courses at VCU," says Felecia Williams, Ph.D., associate dean of the University College and director of the Common Book Program. "When we had orientation in person, we would physically hand the student the book, but that was prior to COVID-19. Last year, we had the books mailed to the students' addresses. This year, the book is an e-book version. We supplied students with access information to go into the VCU library account to get the book."
"Rising: Dispatches from the New American Shore," a 2018 book that provides a look at the impact of climate change and rising sea levels on coastal communities, is VCU's 2021-22 Common Book.
The book by Elizabeth Rush was a finalist for the Pulitzer Prize for General Nonfiction and was the winner of the National Outdoor Book Award.
The flooding problems coastal areas have experienced in the past couple of years because of hurricanes and tropical storms give the subject a sense of urgency and relevancy.
"The reality, risks, effects and responses to climate change are frequently debated at the global and national levels, with implications at the local level," Williams says. "Rush's work explores how humans adapt to changes enacted upon them by forces seemingly out of their reach, from ecological transformation to political revolution."
When she wrote the book, Rush never "thought it would be a common book," she says. "I couldn't be more pleased and honored." She discussed "Rising" at a universitywide virtual event Oct. 13.
Her book includes hope, a concept that Smith embraces and "can hopefully inspire the VCU and Richmond communities to take action."
The Common Book Program has served as an inspiration for Acheampong and other students over the years.
"My instructor, Dr. Micol Hutchison, really engaged us in our Common Book, which was 'Just Mercy' by Bryan Stevenson. That book changed my life and the way I viewed everything pertaining to justice, racism and humans. It was so timely," Acheampong says. "After my experience with that book, I wanted to be able to play a part in providing that same experience to students."
The value of the Common Book Program can be seen in its ability to help students learn how to analyze problems, becoming critical thinkers and then create solutions that can make the culture better.
"It's a chance for students to do more than just read from cover to cover but critically think, apply new concepts and transform their way of thinking. It's also a way to learn from their peers and also how to collaborate in a diverse group," Acheampong says. "I learned how to use my voice, articulate and stand firm in my opinions. I discovered what I valued in storytelling/books. Lastly, I became much more aware of what was going on in the world around me."
Relihan wants everyone on campus to be aware of the Common Book and make it part of the VCU experience. "I want people to feel the book in the air, to allude to it in their conversations and classrooms, to talk about it with friends over lunch," she says. "That's what we have at VCU: a strong common reading program that reminds faculty as well as students why we came to the university and why we value the academy. It is worth the effort."
– Joan Tupponce is a contributing writer for the alumni magazine.