Big man on campus
Reuban Rodriguez, Ed.D., walks miles of campus to connect with students where they are
By Penelope M. Carrington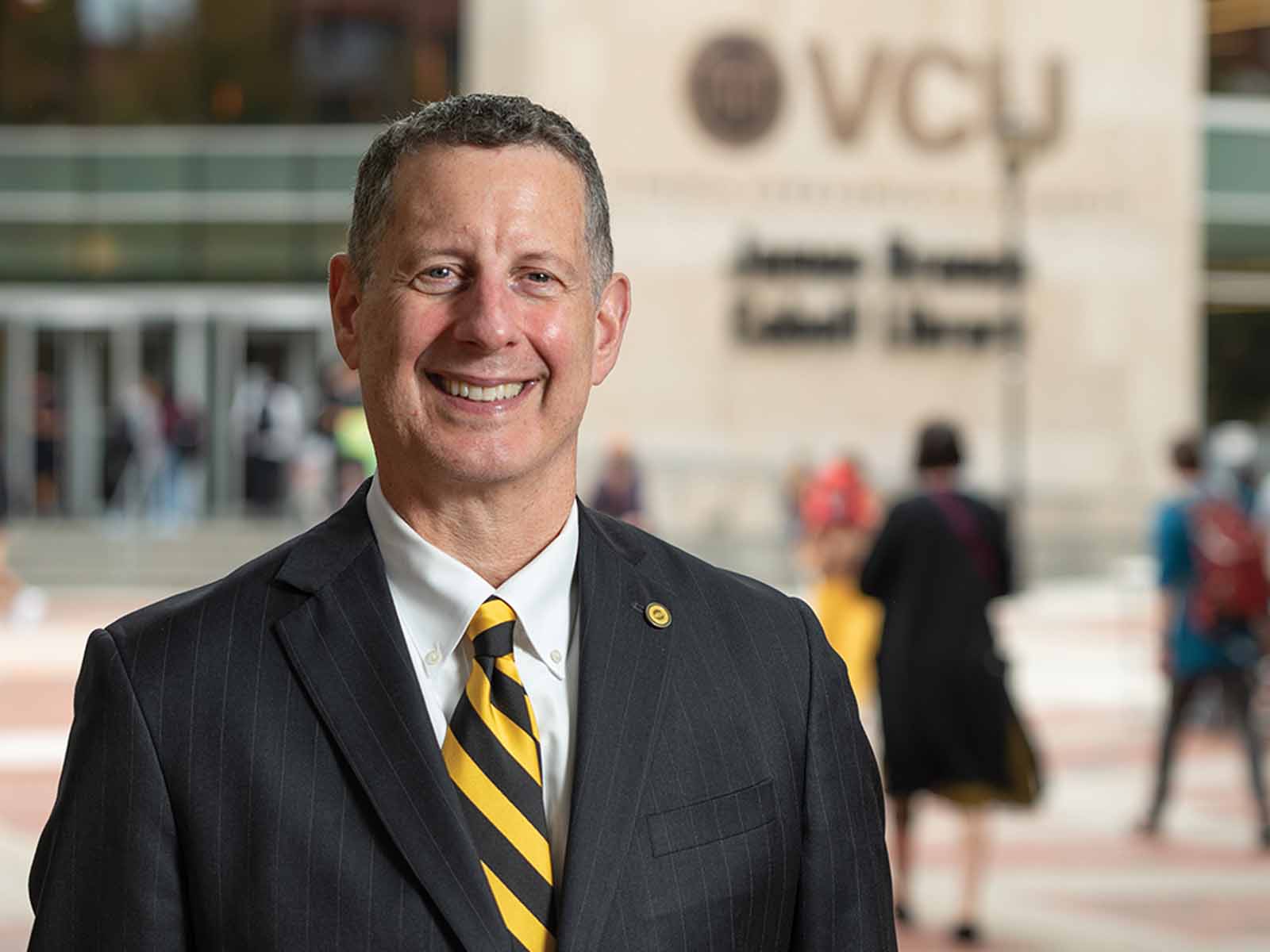 Reuban Rodriguez, Ed.D., gained more than just a love of the outdoors from spending 12 years at summer camp. He discovered the joy of in-person connections.
"I enjoy interacting with people," says Rodriguez, Virginia Commonwealth University's associate vice provost and dean of students. "I found it interesting, even at that age."
Rodriguez spent more than five years as a counselor in the north Georgia mountains. He routinely walked the campgrounds to connect with nature and campers. Decades later, he's still meeting students where they are, albeit on different terrain. Instead of winding through the woods and around lakes, he traverses an ever-changing urban college landscape.
"It's not about getting the steps in, it's about what's going on. Even if it's not a nice day, I will still be walking around, see students I know, and chat," says Rodriguez, who's been at VCU since 2004 and is a familiar sight in his suit and tie. "Some students are in crisis, some are not. Some are looking forward."
If they're not, Rodriguez is there to guide them.
"I can never foretell what the future holds, but I tell a student, even if they're experiencing a crisis, I want the student to persevere," Rodriguez says. "I go beyond their present question or problem and help them chart something beyond that."
His dedication doesn't go unnoticed, and those who don't know him want to.
"I have students come up to me and say, 'Who are you? You look important.' And then, 'Thank you for being around and being present,'" he says.
COVID-19 made the practice tough, with most classes and services forced into the virtual realm where most students spent their time on social platforms and entertainment spaces.
Rodriguez says the virtual services allowed students who were no longer on campus to still navigate important points of access for help. When that wasn't enough, Rodriguez says, word of mouth and his years of legwork kicked in.
"Students, a lot of times, are relying on themselves. But if they say to themselves, 'I know Dr. Rodriguez and he helped me with a situation,' that doesn't require me to be physically around to help out," he says. "Lots of times, students are still able to find me."
Over the past 18 years, Rodriguez and his staff have worked to identify and meet the needs of the university's diverse and complex student body. Among the changes: adding more residence halls, upgrading the sports recreation facilities and creating the Ram Pantry to support students with food insecurity.
"It's rewarding to connect them to resources that are available to them," he says.
Grad Fair is a twice-a-year event and one Rodriguez says he helped create at the start of his tenure. Students can buy their graduation regalia all in one place, but Rodriguez says the event is more intentional than ring and gown shopping. Soon-to-be graduates learn about alumni benefits and how to connect with VCU grads in other cities to continue a sense of community, he says. "People need that connectivity."
– Penelope M. Carrington is a contributing writer for the alumni magazine.