Tracey Gendron, Ph.D. (M.S.'95/HP; M.S.'12/H&S; Ph.D.'13/H&S), doesn't remember much about high school, but one moment has stuck with her for decades.
In a psychology class her senior year, Gendron's teacher mentioned an unfamiliar word — gerontology, the study of aging and older adults. There will be a huge population of older people, the teacher said, and jobs would follow.
Growing up, Gendron says, she had a warm relationship with her grandparents. They were active throughout their lives, leading her to see growing older as a positive experience.
"When I put those two things together — my grandparents are amazing, and now I know there's this thing called gerontology — I realized that's what I wanted to do," Gendron says. "How can I be part of getting older people to fulfill their potential? And what does that look like?"
After high school, Gendron studied gerontology at the University of Central Florida and then VCU, earning bachelor's and master's degrees in 1992 and 1995, respectively. She then started her career in gerontology research but wanted to be more directly involved in the lives of older adults, so she ran a senior center in Queens, New York, where hundreds of people came for activities she planned.
In the early 2000s, Gendron returned to Virginia and started working part time in the VCU Department of Gerontology. She moved into a full-time faculty position in 2008. One day, she was describing why she became a gerontologist and her desire to work on behalf of the aging population when she realized that when she said "aging population," she meant older people.
"But why am I talking about aging as if it's something that's happening to people who aren't me?" she says. "All of a sudden, it became so clear that if I, as a gerontologist, was disassociating myself from being an aging person, what might this be like for everyone else?"
Disrupting ageism and defining elderhood
That moment set Gendron on a course to better understand the deep and tangled roots of ageism — stereotypes, prejudice and discrimination based on age. In the early 2010s, while she continued to teach in the Department of Gerontology, Gendron went back to school, pursuing first a master's degree and then a doctorate in psychology through VCU's College of Humanities and Sciences. Through her research and dissertation, Gendron came to understand that most people see aging as a process of decline and it's been that way for centuries. She found ancient texts from Egypt and Greece that describe aging as a disease. Today, similar sentiment can be found in the prevalence of the anti-aging industry, media portrayals that show older people as feeble and outdated, or downgrading older employees based on the stereotype that they're not technologically savvy.
Not surprisingly, disrupting an idea with a profound hold on society isn't easy. Gendron says we have to shift our perspective and see aging as a holistic process of physical, psychological, spiritual and social growth. It also lasts throughout our lifetime. From the moment we're born, we're aging.
In addition, she says, we need a new term for the late era of life because it is unique.
"We have all of these stages of life — infancy, toddlerhood, childhood and adolescence — and expectations for what we're going to experience and how we'll grow," she says. "Then we have adulthood, and it could go on for 80 years. Some people are raising kids, building careers, pursuing their passions. We have this mindset that we contribute in a certain way.
"I like the term 'elderhood' to describe development in later life because it's not the same as midlife. We need to ask, 'What are the roles for elders? How can they create meaning and purpose in different ways?' We need to look at that stage of life as fundamentally different."
Working directly with older adults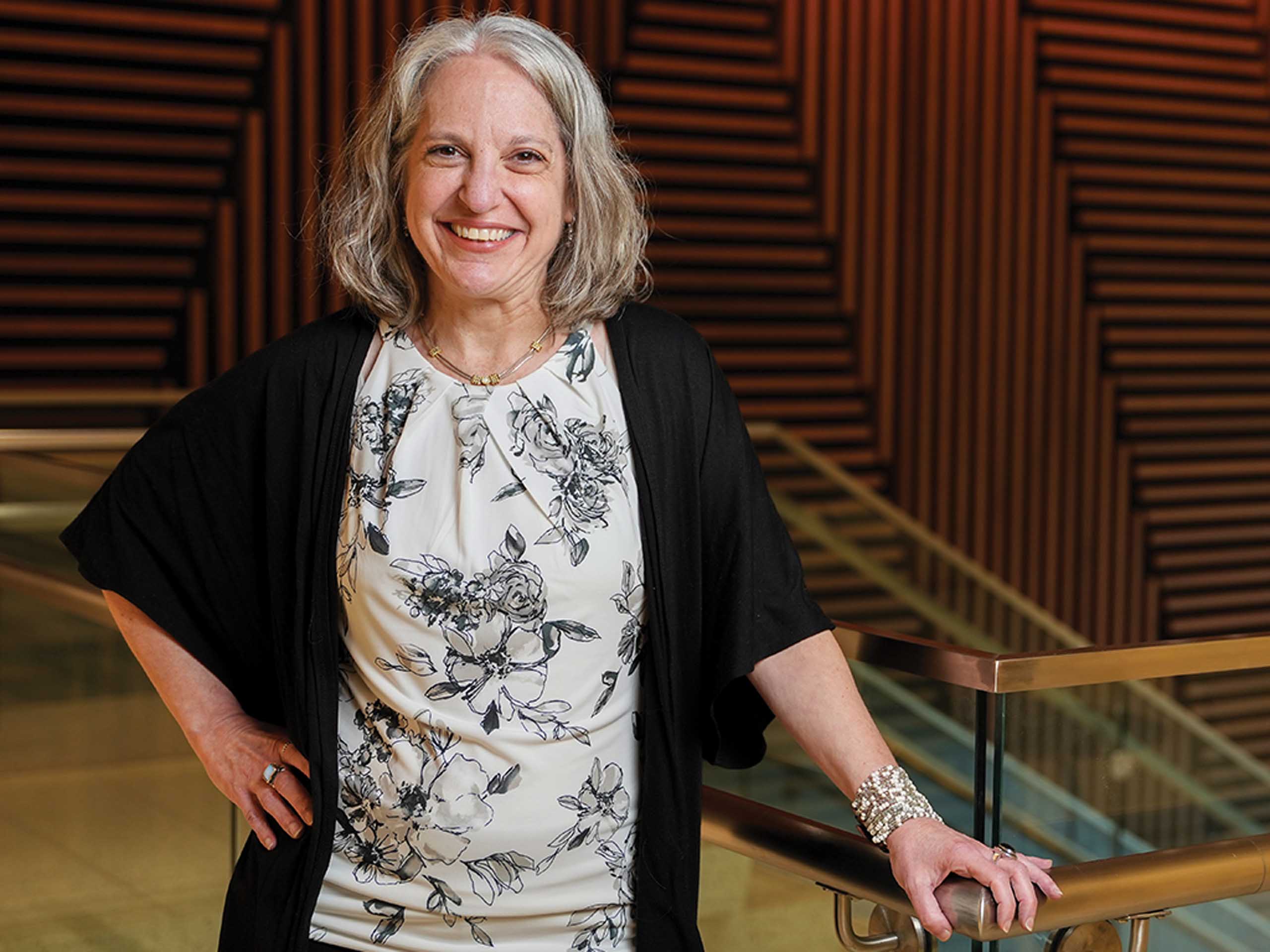 This shift in mindset is essential for those in elderhood and everyone who hopes to one day reach that stage. Ageism, Gendron says, can affect health and longevity at all ages. The more we internalize negative feelings and attitudes about aging, the more we rob ourselves of happiness later on.
Today, Gendron is back in the realm of academia and research, but she hasn't left behind her desire to work directly with older populations. She's chair of VCU's Department of Gerontology and recently stepped in as director of the statewide Virginia Center on Aging in the College of Health Professions, created in 1978 to protect and improve the quality of life of older Virginians.
The dual posts put her in a unique position to maximize quality of life for older adults from both research and service perspectives. Recently, Gendron and her colleagues have focused on several areas, such as a grant to develop a Richmond Brain Health Initiative to provide low-income, older Black Americans in Richmond, Virginia, with education and resources addressing Alzheimer's disease and related dementias. They have a program working with first responders and police to identify and prevent elder abuse. And they're looking at what factors are preventing people from pursuing careers at nursing homes, long-term care facilities and other direct care settings.
"Being housed within a university and conducting research is important because we need to understand how things work," she says. "But one of the dangers is not taking the next step to translate and disseminate that information. What I learned from my research is helpful for me, but more important is translating that to build something that's useful for other people."
Gendron also recently led a campuswide effort to have VCU designated an Age-Friendly University by the Age-Friendly University Global Network. The university received that designation last summer. Even with years of experience in the field at VCU, Gendron says she was surprised to learn how many courses, activities and projects were already happening on campus. She hopes to see VCU continue to grow as a fully age-inclusive campus where people of all ages come to get a variety of degrees.
"I want to see older people in undergraduate classes and on campus," she says. "When you put people of different ages in a space together, they realize they have more in common. Wouldn't it be nice for people of any age to sit in a classroom with people that are 18, 19, 20 and feel like they belong? And for those younger people to recognize that person brings a new perspective that can enrich their lives?"
'I had to understand how we got here'
Decades into her career, Gendron says, she's still unpeeling the layers of unconscious bias we all carry. The COVID-19 pandemic, in particular, revealed a dark underside of ageism, from the disease's severe impact on nursing homes and long-term care facilities to rhetoric that seemed to prioritize the economy over older, at-risk people. Gendron says it also demonstrated the dangers of ageism and generational stereotypes in all directions as millennials and Gen Z were blamed for disregarding COVID-19 safety protocols.
The rhetoric prompted Gendron to distill her years of research in a new book, "Ageism Unmasked: Exploring Age Bias and How to End It," which was released in March.
"I had to understand how we got here, why there's so much anger around all of this," she says. "When you shine a light on something, all the creepy-crawlies come out and people finally get it."
As more people live longer and healthier lives, society has entered the moment that her high school psychology teacher presented all those years ago. Only it looks nothing like what Gendron could have predicted.
The past five to seven years have shown a movement underway, she says. Gendron says more people are entering the field of gerontology research and advocacy in hopes of changing the narrative about aging. Addressing ageism is embraced as a meaningful part of diversity, equity and inclusion work. At the same time, a critical mass of older people don't want to be dismissed because of their age.
It gives Gendron hope that when she enters elderhood, things might look a bit different.
"I want to be valued. I want to be heard. I would love to see that we've passed the time when 'look 20 years younger' is on the cover of magazines," she says. "I hope that we move away from the stereotypes of old people and instead recognize that once you've met one older person, you've met one older person. That just like with all other forms of identity, you see the unique person in front of you."
– Kim Catley is a contributing writer for the alumni magazine.