Delivering a powerful message to graduates
School of Medicine alumna encourages fellow grads to 'go forth and make a difference in this world'
By Kim Catley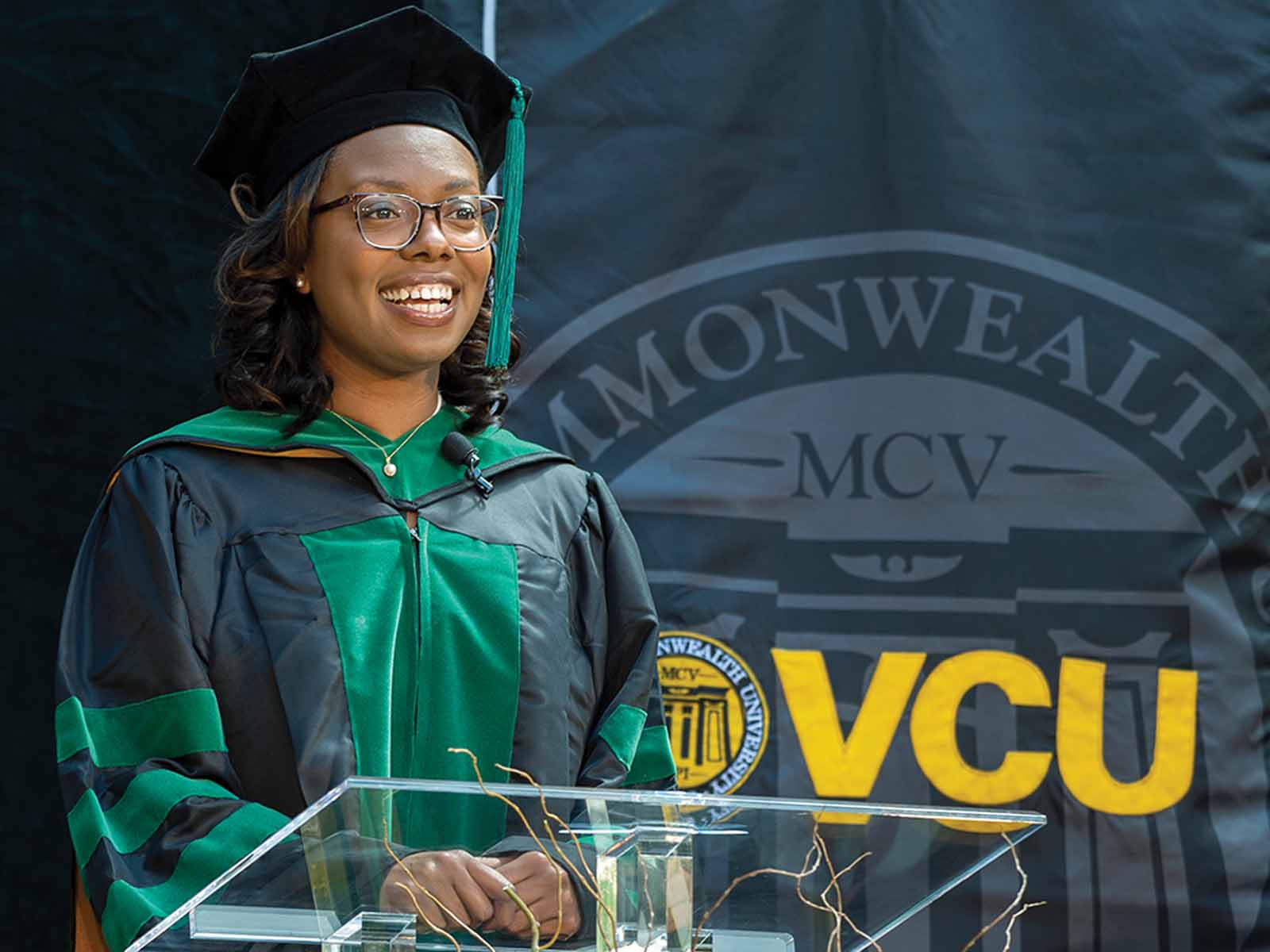 For generations, guest speakers have stepped up to the mic to share life lessons with graduates at Commencement. This year at Virginia Commonwealth University, those words of wisdom came from one of their peers, Brandee Branche, M.D. (M.D.'21/M), who was graduating from the School of Medicine.
She was selected after an open call from the university, which invited any graduate to submit a short video describing how their experience at VCU "made it real." Branche was visiting her parents at home in Charlotte, North Carolina, when she saw the email. She had recently matched to a urology residency at the University of Michigan and was reflecting on the ups and downs of the past four years, while looking ahead to the next phase of her journey.
"I thought it would be neat to have some sort of impact," she says. "I was motivated to write it as a reflection after getting through a year of a pandemic and different racial and political tensions in the country. At the same time, it's this huge moment — we're graduating and things are moving on."
In a recorded video message, Branche encouraged her fellow graduates to persist and pursue their dreams. She commented on imposter syndrome and the challenge of not to second-guess your accomplishments as well as the importance of mentors in her success.
She recalls one mentor, in particular, who continues to offer support as she transitions to her residency program in Michigan. Branche first met Randy Vince Jr., M.D. (H.S.'19/M), who completed his urology residency at VCU, when he spoke at the Michigan Urology Academy, a program for underrepresented minorities interested in urology. In 2019, he left for a urologic oncology fellowship at the University of Michigan and supported Branche as she navigated the virtual interview cycle. Now that both are on the same campus again, she had the opportunity to work with Vince on research on health disparities in urology.
Beginning her residency program, Branche is exploring subspecialties as she moves through surgical and urology rotations. She was drawn to urology for its breadth, from oncology to reconstructive surgery to "bread-and-butter" issues, such as kidney stones. She also sees plenty of potential to continue exploring health disparities — an interest she fostered as a member of VCU's International/Inner City/Rural Preceptorship program, which helps underserved populations in medicine.
Wherever her career leads, Branche's commencement speech shows she's on solid ground — something she hopes her classmates will remember as well.
"As I reflect on all of the opportunities I've had, all of the experience gained, all of the late study nights and countless exams, and all of my time here at VCU, I am constantly reminded of how the culmination of the experiences I was so privileged to gain has made my dreams reality," she told graduates. "In a world where divisiveness and strife still exist, take care not to be negligent about how you may impact those who are marginalized in this world. I have the utmost faith that we, the VCU Class of 2021, will go forth and make a difference in this world."
– Kim Catley is a contributing writer for the alumni magazine.