Soyoung Min embraces change and her creative side
The School of Education graduate made a career shift to launch a jewelry business
By Kyra Molinaro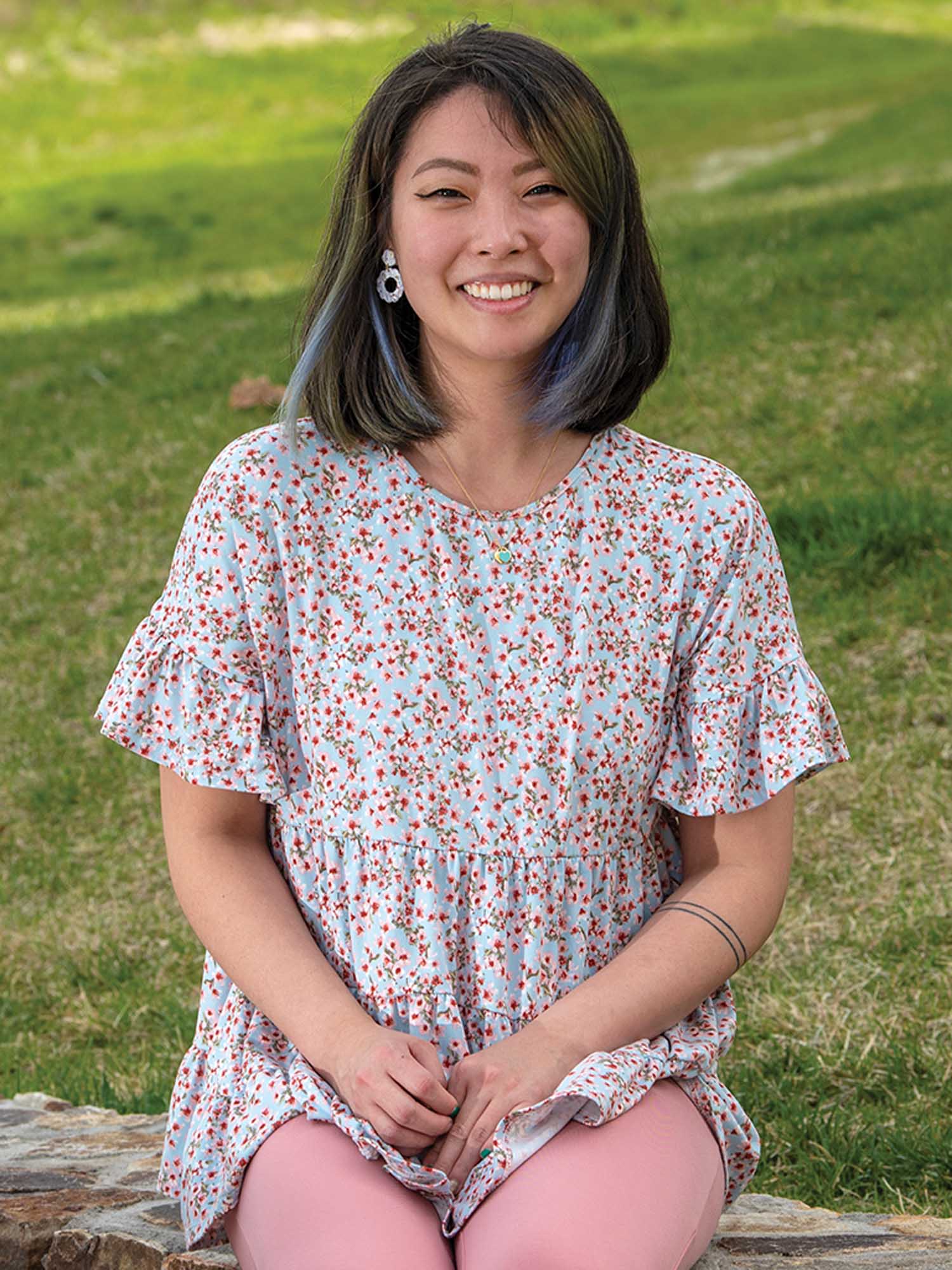 Many people have pursued unique hobbies during the COVID-19 pandemic. Some changed careers altogether. Soyoung Min (B.I.S.'15/H&S; M.T.'15/E) is one of them: The former elementary school teacher channeled her longtime love of art and design into a burgeoning business, Thirdstepdog.
Named in honor of Min's dog, Lola ("She sits on the third step of the stairs to greet me when I come home," Min says), Thirdstepdog is a handmade jewelry and accessory online boutique. Min specializes in creating colorful earrings from polymer clay in a variety of quirky images, ranging from hot air balloons to dancing holiday elves.
"I pull inspiration from experiences that I've had, such as symbols in my culture or things that I've seen while traveling," Min says. "I do a design sketch and then I start creating."
Born in South Korea, Min and her family came to the U.S. when she was a child, eventually settling in Springfield, Virginia. A first-generation college student, Min was attracted to Virginia Commonwealth University's bustling urban community and decided to pursue an education degree.
"While I was studying education, I realized that I also really love art and graphic design," she says. "I thought about ways I could incorporate art into the student curriculum, and I also began to pursue art as a passion project. I began making stickers, keychains and earrings — just doing lots of things to tap into that creative field."
When the pandemic began, Min was working as a first-grade teacher. The challenges of facilitating virtual learning while caring for her baby daughter at home left Min feeling drained and discouraged.
"Teaching is my passion, but I ended up realizing, 'This is not the way I want to teach,'" she says. "I didn't feel like I was making an impact. I said, 'Instead of staying in a situation where I feel like I can't control anything, what can I control? How can I tap into my other interests?'"
She decided to turn her art project into a viable business. After a year of laying the groundwork, Min officially launched Thirdstepdog in May 2021 and left teaching to fully focus on entrepreneurship.
"I found that I could draw upon all of these other skills I got from college and my career," she says. "I have communication skills. I'm collaborative. I'm creative. I ended up getting hired by a business coaching consulting firm [in addition to running Thirdstepdog]."
Min says she would like to grow her business by advancing her marketing and communication efforts to better reach customers. "I'm not pushing out as many products right now because I'm trying to focus on engagement," she says. "The thing I love about this business is that you can connect with makers all over the world."
For anyone who is unsure about their career, Min says don't be afraid to take a leap of faith.
"Change is hard, but it can also be good," she says. "Failure is progress because you learn through your experience. I'm tumbling along, but I'm also growing as an entrepreneur, a new mom and as a human being."
– Kyra Molinaro (M.Ed.'21/E; Cert.'21/GPA) is a contributing writer for the alumni magazine.