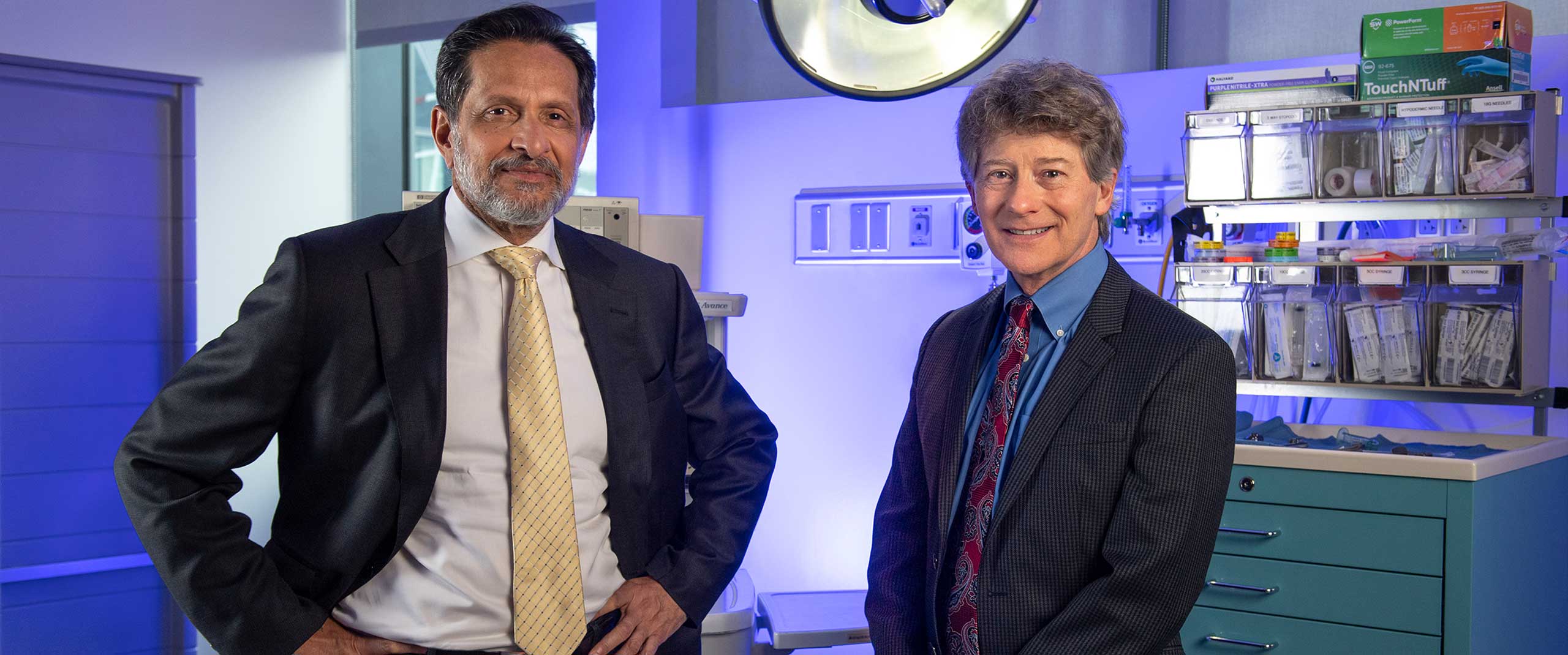 Arun Sanyal, M.D. (H.S.'90/M), had a problem. It was Jan. 14, 1987, his 30th birthday, and Sanyal was in Richmond, getting ready for his fellowship interview in the Department of Internal Medicine at Virginia Commonwealth University's School of Medicine. On his way to the interview, he slipped down the stairs of his hotel in the snow and was covered with mud. With no time to change, he considered canceling.
Sanyal, though, really didn't want to do that. For years, he watched his father, a physician and scientist in his native India, dedicate his life to service and family. Sanyal aspired to a career in medicine.
He kept the appointment and got the fellowship, beginning a distinguished career at VCU as a faculty member in the School of Medicine, a researcher at VCU Massey Cancer Center and an international leader in the development of therapeutics for reducing liver disease.
"It was amazing chemistry from day one. I knew this is where I wanted to go," he says of his first moments at VCU. "I was always comfortable here."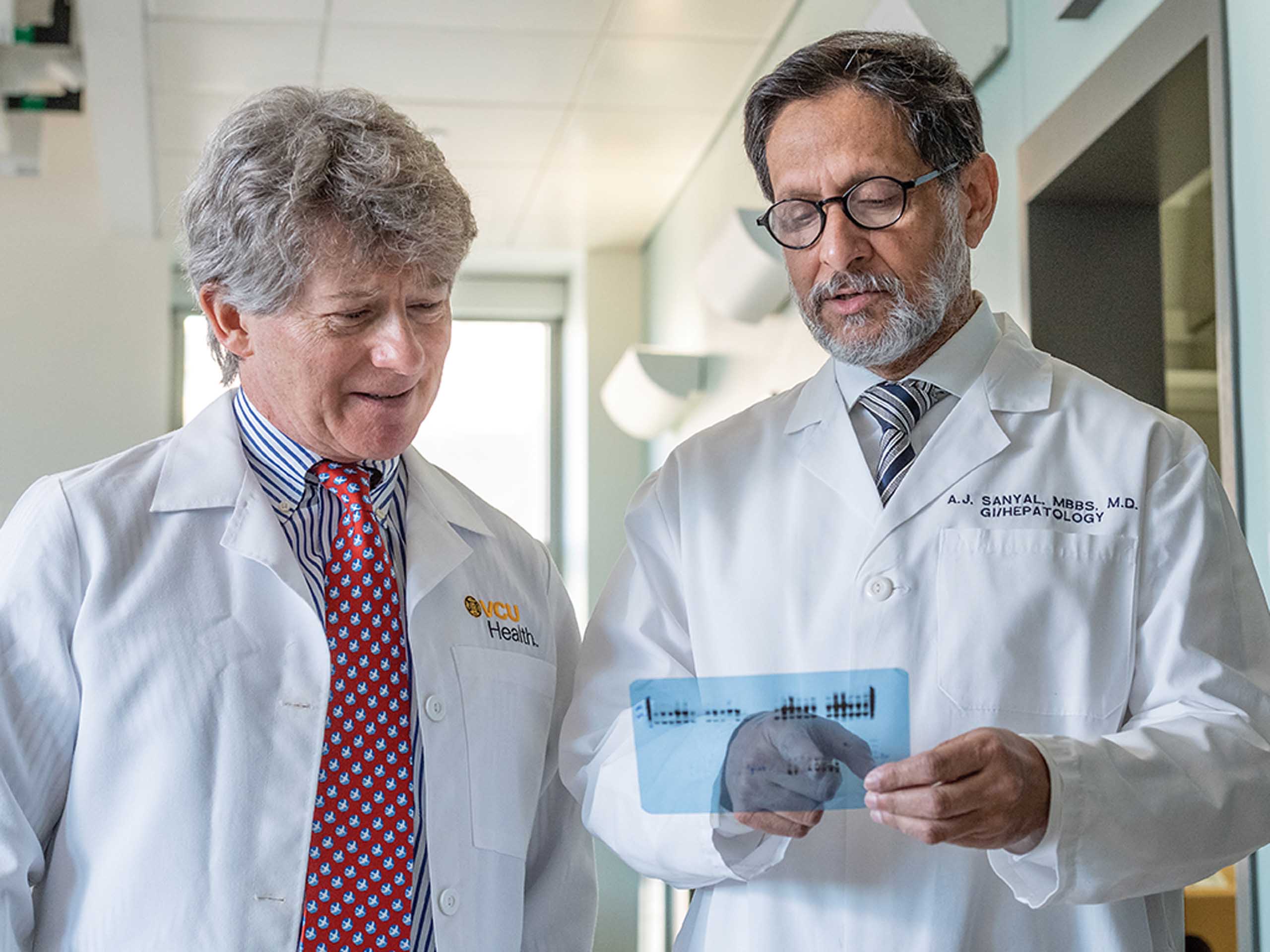 That slip in the mud — and that decision to keep the appointment — was a small but important moment, one of several that culminated this winter in two major university announcements: the creation at VCU of an institute for liver disease and metabolic health with Sanyal as its director, and a $104 million donation — the largest publicly shared gift for liver research in U.S. history — that will make VCU a global leader in research and education about liver diseases and metabolically driven disorders, and in the care for patients with these conditions.
Sanyal grew up in New Delhi and knew at an early age that he wanted a career in medicine.
"I was born 10 years after India became independent," Sanyal says. "My father was very much involved in the first generation of physicians to set up the health care system in India. That played an important role in who I am."
Sanyal earned degrees from Patna University and the University of Delhi. He was drawn to three areas of medicine: cardiology, nephrology and gastroenterology. When it came time to choose a location for his fellowship after medical school, he made the life-changing decision to move to the U.S. despite deep connections to his home.
"I discussed it with my father at length," he says. "The ability to do science is unparalleled when you look at the U.S. versus any other part of the world. Also, the ability to translate the science into better cures and treatments that can affect the life of patients is better exponentially in the U.S."
"The importance of the liver is not just restricted to liver disease. It has a halo effect on overall health in areas such as diabetes, cardiovascular disease [and] cancers. The impact [of the institute] is going to be much broader beyond the liver."

- Arun Sanyal, M.D. (H.S.'90/M)
Half a world away, another aspiring doctor was beginning his journey in medicine. Like Sanyal, R. Todd Stravitz, M.D. (H.S.'92/M), was drawn to the field at an early age, and he was inspired by a parent. When Stravitz was 3 years old, his mother, Barbara Brunckhorst, proclaimed that he would be a doctor instead of joining the family business, Boar's Head Provisions Co. Inc. The idea stuck.
"I never gave it a second thought," Stravitz says.
He earned his bachelor's degree from the College of William & Mary in 1982 before attending the New York University Grossman School of Medicine. There, Stravitz trained at NYC Health + Hospitals/Bellevue, the country's first public hospital.
The AIDS epidemic was breaking. In time, Bellevue would become a central figure in the fight against it, leaving a mark on many new doctors and doctors-in-training. As formative as it was to witness the suffering of patients with immune systems destroyed by HIV infection, Stravitz says, another group of patients also made a lasting impression.
"The patients who shocked me the most were those with liver disease," he says. "There were no treatments for liver disease until liver transplantation took hold in the U.S. in the mid-1980s. These patients were the sickest of the sick, and we had nothing to offer them."
By the end of his medical education, internship and residency, Stravitz knew he wanted to treat patients with liver disease. He was drawn to VCU for his fellowship training by the university's reputation as a trailblazer in liver research and treatment.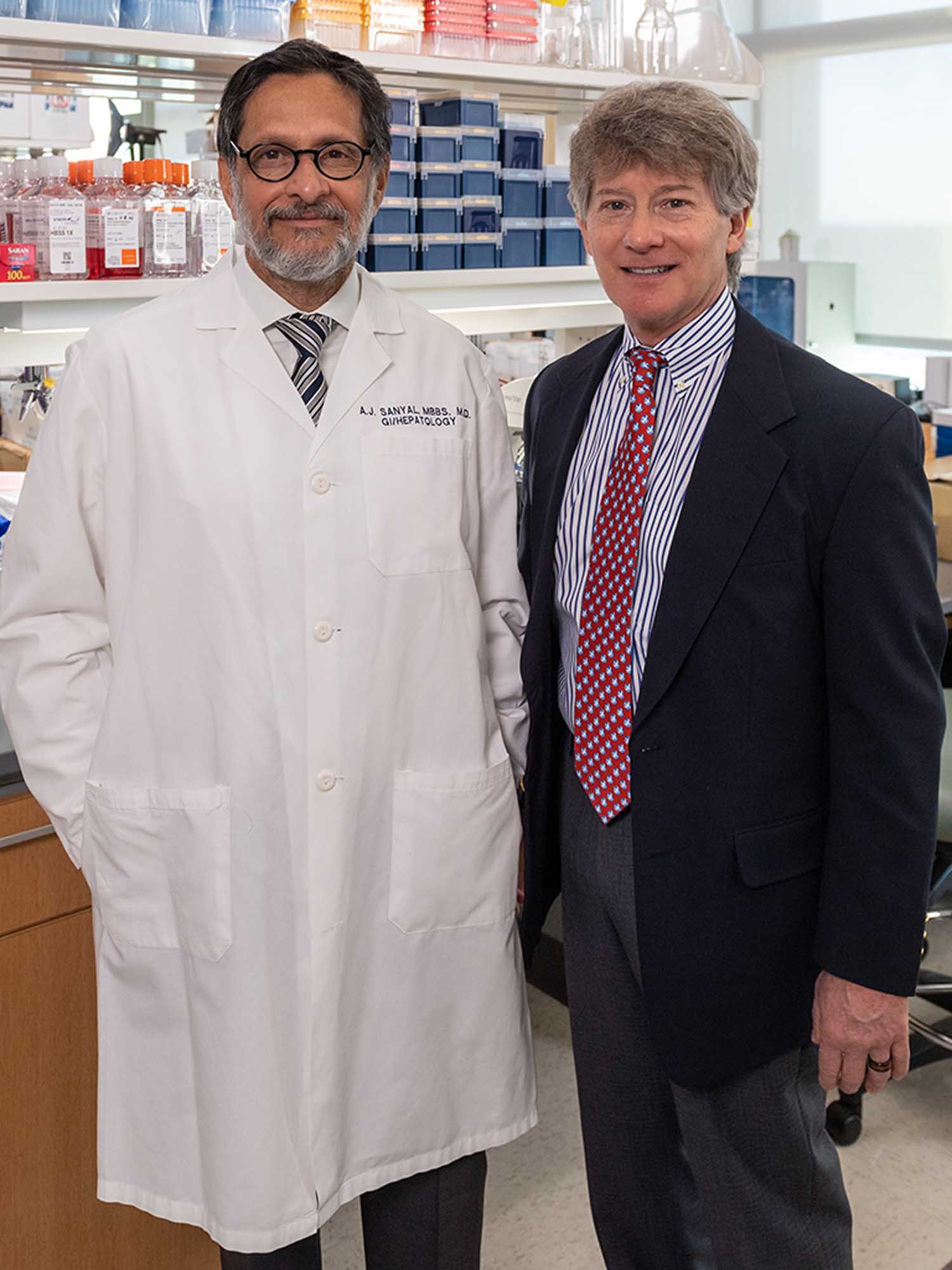 "VCU had the most cutting-edge liver transplant program certainly in the southeast region, if not the entire U.S.," he says. And so, in 1990, three years after Arun Sanyal slipped down the stairs of his hotel but kept his appointment, Todd Stravitz set his own date to interview for a fellowship at VCU Medical Center.
Stravitz interviewed for the fellowship with Z. Reno Vlahcevic, M.D., then-chairman of the Division of Gastroenterology. Vlahcevic offered him a position, welcoming Stravitz to the organization where he would spend the entirety of his 30-year career in hepatology, a subspecialty focused on the liver, gallbladder and biliary tree. By this point, Sanyal was on the faculty at the School of Medicine. He began focusing on liver disease, guided toward it by a group of mentors that included Vlahcevic.
Stravitz and Sanyal first met when Stravitz was a fellow and Sanyal an attending physician at the medical center. Stravitz remembers sitting in on Sanyal's visits with patients, paying close attention to how he communicated with them.
"I learned how to talk to patients by watching Arun," Stravitz says. "He is a compassionate listener, and he always took the time to dissect things down to the simplest, most understandable form. His patients left the room thinking, 'This guy cares about me and is going to help me.'"
Over the next 30 years, Stravitz and Sanyal developed a close connection as colleagues and friends, working alongside each other on research projects related to the liver. At first, they bonded over hours in the lab, joking affectionately about the quirks of their mentors whom Stravitz views as the "first generation of great liver doctors." Three decades later he, Sanyal and their colleagues are the second generation of such doctors, and they share a vision for what it will take to shepherd the third.
"Largely it's relationships," Stravitz says. "We're all products of our mentors who nurtured us along to be good doctors and researchers."
Stravitz retired from VCU in 2020 to care for his mother. This past winter, he made arrangements for the university to receive a $104 million gift from his family's foundation, the Barbara Brunckhorst Foundation, advancing the new Stravitz-Sanyal Institute for Liver Disease and Metabolic Health at VCU. The gift, announced in February, is the largest in the university's history.
"This gift is the legacy of my mentors and the work they started decades ago. … I want to make sure [VCU] shines and that people benefit from the work that's done here."

- R. Todd Stravitz, M.D. (H.S.'92/M)
"My grandfather started the foundation in 1968, but my mother really developed it," Stravitz says. "It's mostly an environmental and conservation foundation, but before she died about 15 months ago, she and I decided to expand that to medical research, too. I was given the responsibility and the blessing of choosing a recipient in the medical field and what better recipient than VCU, where I've been for 30 years?"
The gift follows the December creation of the institute in the VCU School of Medicine, which focuses on research, education and treatment of liver diseases and metabolic disorders. Sanyal is its first director.
"Arun is a visionary," Stravitz says. "He is, quite simply, the most recognized liver physician in the world, and he's just the man to take this on."
What Sanyal and the institute will take on is a field that plays a central role in a person's health, but one that many people don't fully understand.
"The importance of the liver is not just restricted to liver disease," Sanyal says. "It has a halo effect on overall health in areas such as diabetes, cardiovascular disease [and] cancers. The impact [of the institute] is going to be much broader beyond the liver."
Over 50% of people with diabetes have excess fat in the liver, Sanyal says. Most don't even know they have it. One goal of the liver institute is to "expand our ability to take care of people who have diabetes in Virginia," Sanyal says, and identify those who have fatty liver disease. There's also a popular perception that liver disease only occurs in people who consume a lot of alcohol or use drugs. That's not true, Sanyal says. So, another goal of the institute is to destigmatize liver disease and highlight the links among liver disease, diabetes, cardiovascular disease, cancers and addiction.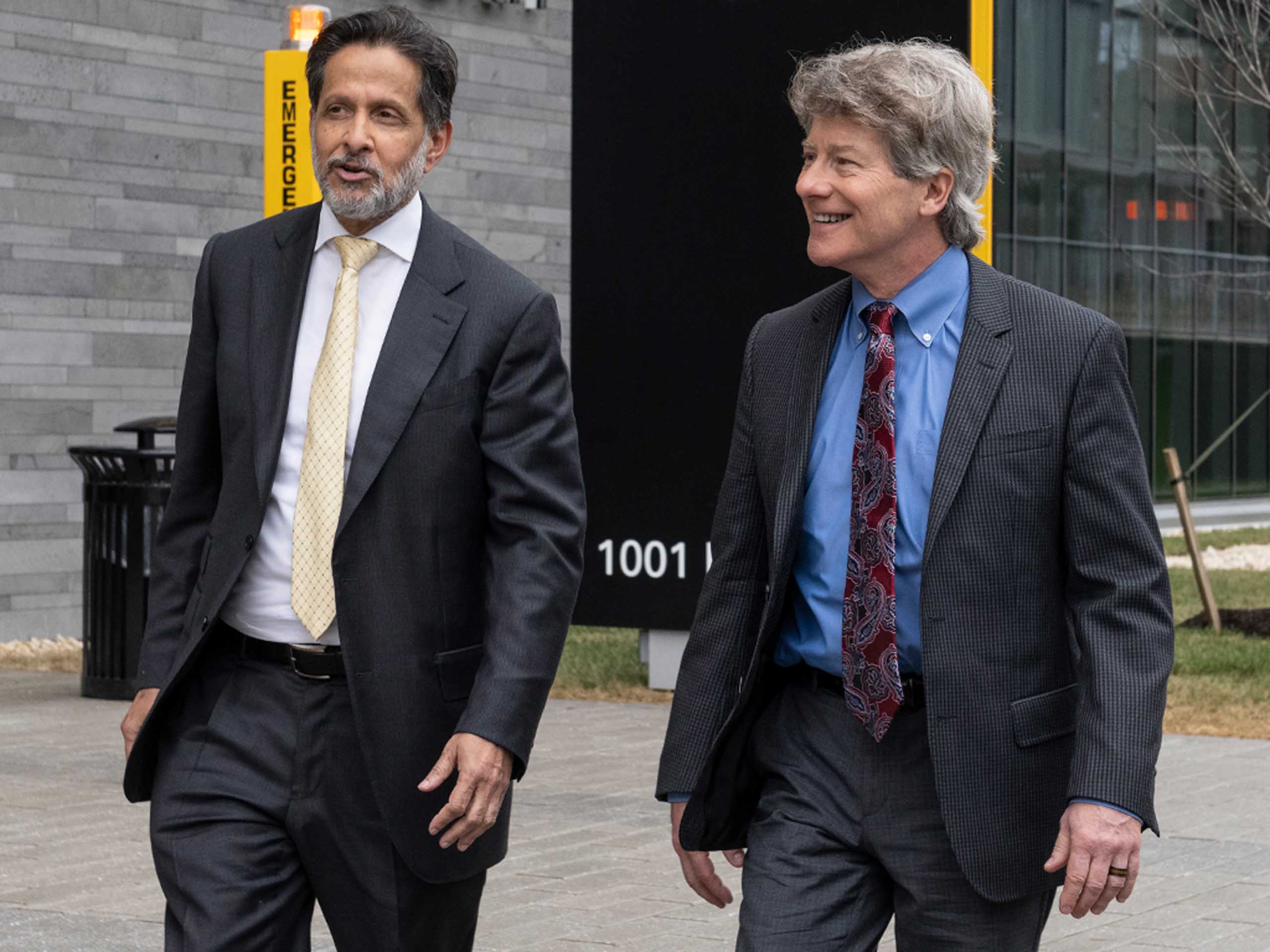 And, of course, there is shepherding that next generation of great liver doctors.
"It's about having a place where you have mentors that not only teach you medical facts, reasoning, procedures and how to think about things but also actually guide your life path and show you where and how you need to proceed," Sanyal says. "One thing we want to do is create a mindset that becomes an enduring part of how we train the next generation of investigators and create an environment where people thrive and feel that they are bringing value to themselves, science and patients."
The institute, Sanyal and Stravitz say, will concentrate on generating science that will impact the world, building on discoveries that are just beginning to emerge for liver disease treatment. For now, the only cure for end-stage liver disease is transplantation, but new medical advances are laying the groundwork for some genetic liver disorders to become solvable without transplantation.
"Offering gene therapy for a condition that usually requires liver transplantation would be a monumental feat," Stravitz says. "Modern medicine is on the cusp of doing that, but gene therapy is an expensive field of research."
Additional funding, Stravitz says, will be critical. He is hopeful that the gift from his family's foundation will help recruit physician-scientists, foster collaboration and innovation and make a lasting impact on public health.
"This gift is the legacy of my mentors and the work they started decades ago," Stravitz says. "VCU has been so important to liver disease research. I want to make sure this place shines and that people benefit from the work that's done here."
Sanyal agrees. He, too, understands the impact the institute can have with the right resources in place. When he was growing up in India, resources for research were limited. He remembers how his father used some of his salary to keep his research moving forward. The family "lived simply," Sanyal says, and when he looks in the mirror today, he wants to see a combination of the intellectual rigor of his father with the kindness of his mother.
"My mother would say, 'What your father is doing is helping a lot of people,'" Sanyal says. "My parents didn't have to do that. It's just something they did. There are a few formative moments like that that shape your thinking and what you want to do.
"The heart of this [institute] is the ability to transform the lives of people with liver disease around the world. With every new finding, you can impact a million people. That's what makes research so powerful."
– Brelyn Powell and Joan Tupponce are contributing writers for the alumni magazine.