Experience that pays off
VCU students develop their skills and pay for school through the university's Work-Study Research Assistant Program
By Kim Catley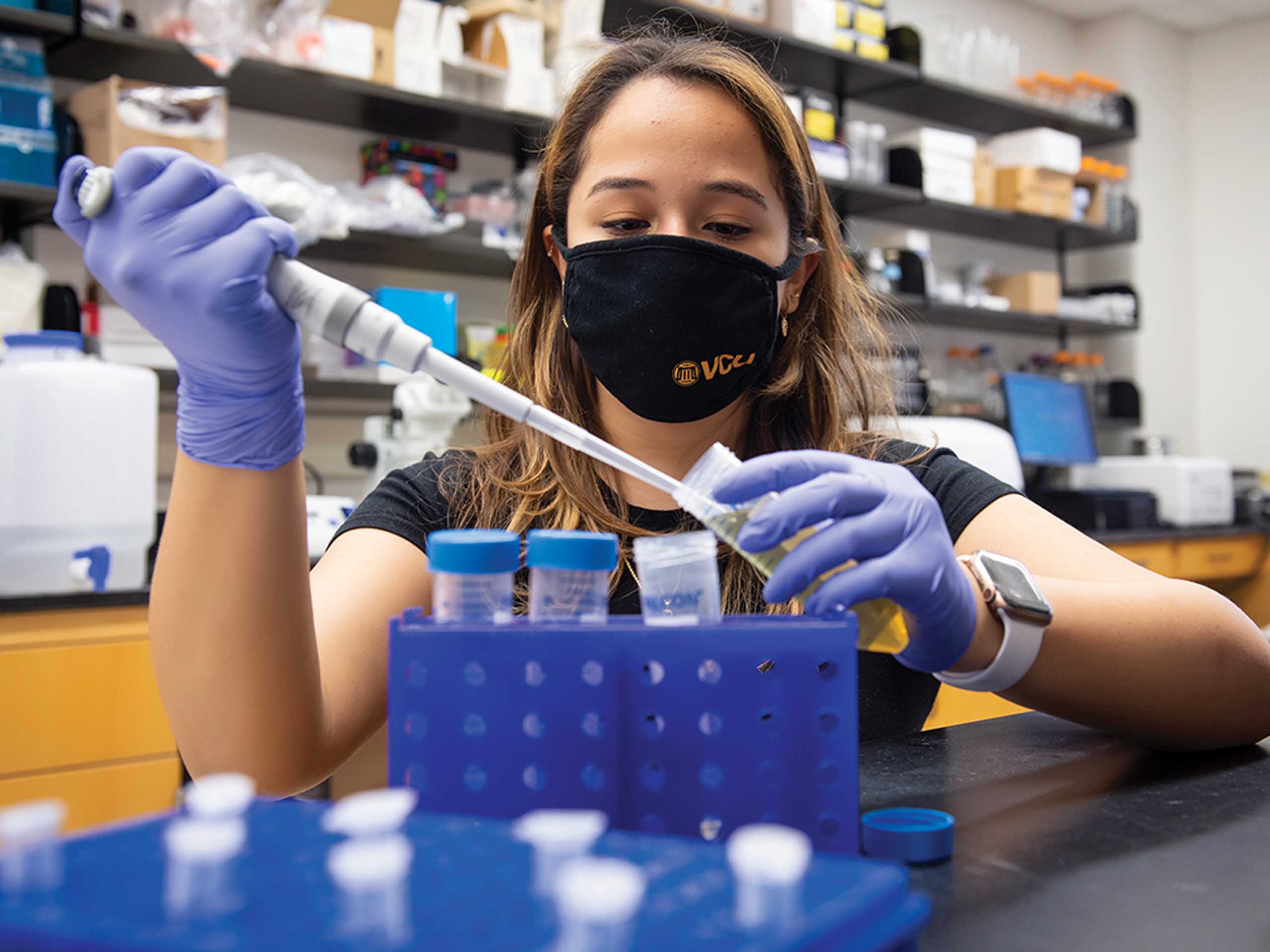 Zack Moore (B.S.'22/H&S), was searching for a work-study position to help pay for school at the start of his junior year at Virginia Commonwealth University when he thought, "Wouldn't it be cool if I could find something related to my psych major?"
His search led him to a research assistant position in the Healthy Outcomes and Psychosocial Equity Lab, run by Ruth Brown, Ph.D. (Ph.D.'11/H&S; Cert.'19/E), a clinical psychologist and assistant professor at the Virginia Institute for Psychiatric and Behavioral Genetics at VCU. Through the HOPE Lab, Brown works to improve access to mental health care for people with intellectual and developmental disabilities, with the help of a team of students through VCU's Work-Study Research Assistant Program. Rather than previous research experience, Brown wants students who are willing to learn and find the subject interesting.
Moore is one of more than 200 students hired as work-study researchers each year. Of those, 45% are students from marginalized communities or populations, and 40% are first-generation college students. The program is offered by the VCU Undergraduate Research Opportunities Program and the VCU Work Study Office and aims to eliminate the difficult choice many students face when deciding between working to pay for school or pursuing research opportunities that support their educational and professional goals.
Lab work
Before the HOPE Lab, Moore assumed he would go into counseling. He had no experience working in a psychology lab. But he dove in, coding research articles to determine how often people with intellectual and developmental disabilities are excluded from trauma research.
As Moore better understood the subject matter and the process, he also discovered an interest in psychology research. He designed an independent project, thanks to a summer fellowship, and expanded his work in the HOPE Lab to include studies with children. Brown helped him as he developed his research question, drafted a project proposal and mapped out a timetable for the project.
"I've taken classes that have good synergy with working in a lab," Moore says. "I learned about experimental methods and principles of tests and measures. But it takes the experience of getting into the field to apply that knowledge and see where it practically shows up."
Moore also added a graduate school concentration that will prepare him to delve further into developmental and social psychology research. Brown offered advice on finding post-
baccalaureate research opportunities and the right graduate school program. She says she wants student researchers like Moore to feel confident in their abilities and to be exposed to the possibilities of psychology research.
"As an undergraduate student, I had no idea how to get to graduate school, what skills I needed," Brown says. "I hope I can provide [students] with some guidance, to show them a path and support them."
'A great experience for students'
Like Moore, Lesly Turcios-Hernandez's research position marked a turning point in her professional plans. A pre-med student, Turcios-Hernandez first landed a summer fellowship in the lab of Alaattin Kaya, Ph.D., an assistant professor of biology in the College of Humanities and Sciences who studies aging. Turcios-Hernandez parlayed that into a work-study research position for the 2021-22 academic year.
She started off applying molecular and cell biology methods to analyze the cellular pathways regulating lifespan in budding yeast and nematode worms. The project aims to understand why altered expression of certain conserved genes enable a cell or organism to live longer. Working in Kaya's lab, Turcios-Hernandez developed crucial wet lab skills that are a necessary foundation for graduate school, where she hopes to further study the causes of aging and age-related diseases such as Alzheimer's and cancer.
While Turcios-Hernandez has always wanted to be an internal medicine doctor, she says she's now considering M.D.-Ph.D. programs and hopes to one day have her own research lab.
"I had never thought about doing research until I started my own projects," she says. "I fell in love with being in a lab, doing these experiments and spending time on aging research."
While the benefits of the Work-Study Research Assistant Program to students are clear, faculty researchers have just as much to gain. In some cases, students develop independent research projects that expand the original scope of the lab in new and unexpected ways.
Last summer in the HOPE Lab, Michael Matthews (B.I.S.'21/UC), another work-study research assistant, evaluated career development and independent living programming for blind and low-vision students offered by the National Federation of the Blind of Virginia. Brown says that while visual impairments are outside of the scope of her lab, she was excited to bring in a new area of study.
But above all, Brown says, work-study research assistants are crucial to the HOPE Lab's general productivity.
"I'm a junior faculty member, and I don't have a ton of funding to pay for research coordinators," she says. "The program helps me provide a paid experience to students rather than rely purely on volunteers, and we can do more projects. And it offers a great experience for students who otherwise may not have those opportunities."
– Kim Catley is a contributing writer for the alumni magazine.