'It's surreal': Soccer standout Lana Golob chases her dream in Italy
The Atlantic 10's top defender in 2021 has had an adventurous year, signing with Napoli Femminile and playing for the Slovenian national team while finishing her degree.

By James Irwin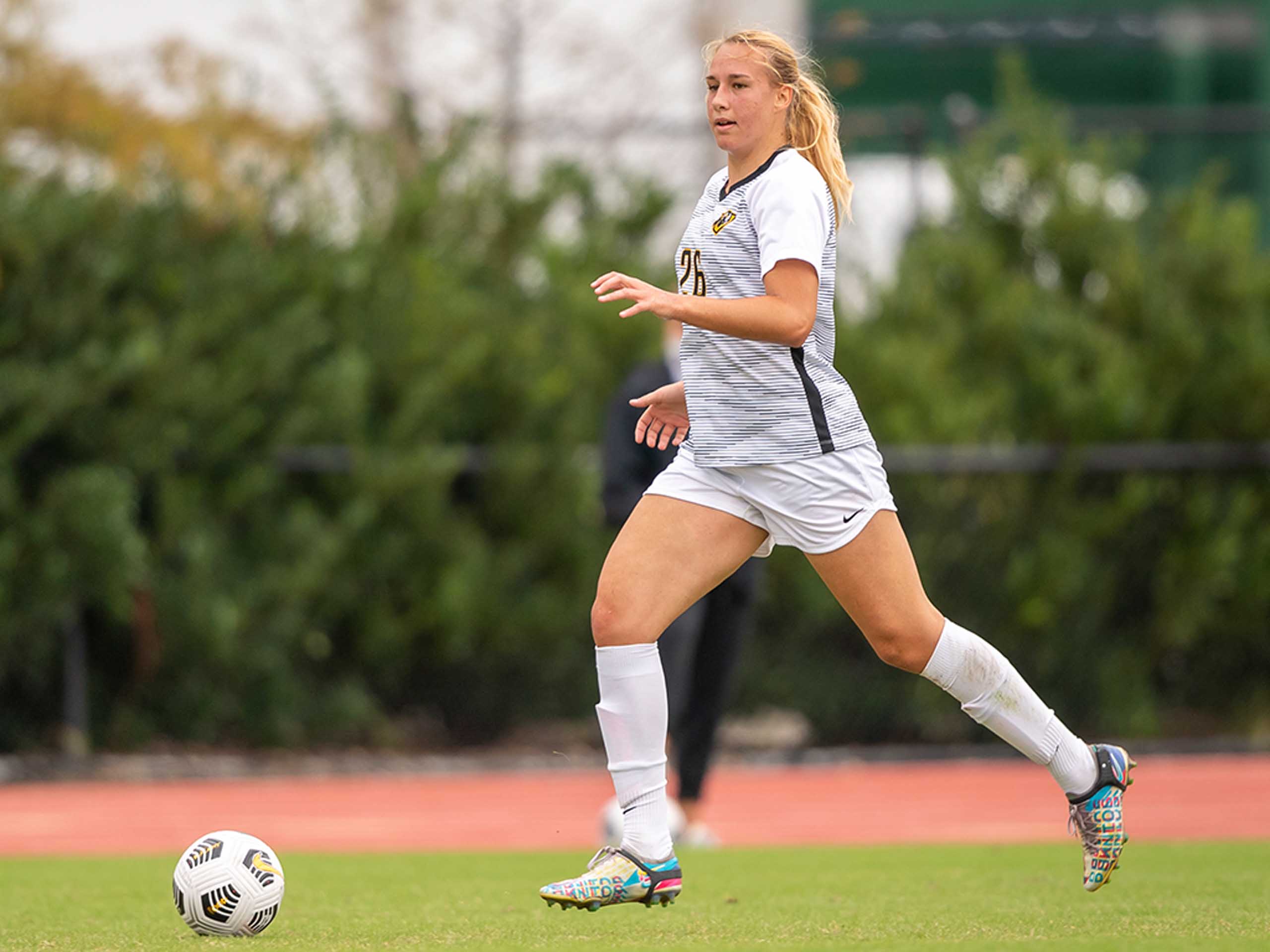 Lana Golob (B.S.'22/H&S) has been busy. In October she finished her fourth season as a member of the Virginia Commonwealth University women's soccer team, helping lead the Rams to a 13-4 record and earning Atlantic 10 Conference Defensive Player of the Year honors. A month later, the 22-year-old was in Europe, training with the Slovenian national team as it seeks to qualify for the 2023 Women's World Cup.
All the while, she was deciding whether she should play professionally in 2022 or return to VCU for a fifth year (the NCAA granted fall and winter athletes extra eligibility after the COVID-19 pandemic disrupted and canceled seasons during the 2020-21 academic year).
"I was debating, 'Should I take my extra year?' Because I really enjoyed playing [at VCU] and we have a great team," Golob says. "[But] I was getting more exposure playing the World Cup qualifications [and] after that national team camp in November, I got some great offers, and I think those kind of swayed me to just dive into it."
In January, Golob signed a professional contract with Napoli Femminile of Serie A, Italy's top division. A flurry of activity followed: moving to Naples, trying to quickly learn Italian and meeting new teammates and coaches. And the kicker: completing her final classes at VCU. Golob, a semester away from graduating, had already registered for spring classes and saw no reason to back out.
"I wanted to finish my degree," she says. "Thankfully, I was able to figure that out with my academic adviser and my professors. Everyone was willing to help."
So that's what Golob's last half-year has been like: Playing at VCU, playing in Europe, navigating a new country and language — all while taking 15 credits of classes on Zoom and then facing off against some of the best soccer players in the world. "It's been tough," she says, but also a thrill.
"I'm having so much fun," she says. "Every single team we play against, they have women who are the stars of women's football in Europe. Most of the Italian national team [members] play here and just to play against big clubs like Rome, Juventus, Milan, it's surreal."
Golob appeared in 60 games (58 starts) across four seasons at VCU. The Rams, under head coach Lindsey Martin (M.A.'19/GPA), posted a record of 45-18-5 during those seasons. Golob was a mainstay on the back line and "brought a calming, encouraging, optimistic perspective," Martin says. In 2021, VCU won the Atlantic 10 regular season title for the first time, anchored by a defense that yielded just 14 goals in 17 games.
"She brought a great deal of composure," Martin says. "For being one of the best players on the field, she [also] was one of the most supportive players on the field."
Golob is the latest in a line of recent VCU women's soccer players to play professionally overseas, including former teammates Susanna Friedrichs (B.S.'20/H&S), Ingrid Brouwer (B.I.S.'20/UC) and Alyssa Tallent (B.S.'20/GPA). Golob spoke with each as she contemplated her future. Their strong college careers have coincided with a period of rapid growth in the game, Martin says, and an increase in opportunities to play professionally, both overseas and in the U.S.
Signing with Napoli has also been a European homecoming for Golob. She is from Rečica ob Paki in north central Slovenia, about three hours northeast of Venice, and has been part of the Slovenian national team program since 2017. Playing in Italy, Martin says, is "a great way for Lana to be near family and friends and also play at a really high level."
"I think for her it was the perfect fit, personally and professionally," Martin says.
Golob agrees. Her family and friends came to a few games during her first season in Naples. In May, she graduated from the College of Humanities and Sciences with a degree in psychology and a minor in sociology. And her Italian is improving, she says with a laugh.
"I'm having a lot of fun," she says. "I've met some great people here, especially my teammates. They're mostly older than me and they're from all over the world — Argentina, Spain, Sweden — and they've played all over, too. It's been a fun process and probably the best job anyone can wish for."
– James Irwin is managing editor of the alumni magazine.