Just a year ago, Virginia Commonwealth University graduate Rabia Kamara (B.S.'10/B) opened her first brick-and-mortar ice cream and desserts shop in the North Side of Richmond, Virginia. It was November — not the best time of year to sell frozen treats — and the middle of a global pandemic, when many other restaurants were closing for good. Yet opening day saw her shop, Ruby Scoops, with a line of customers wrapped around the block.
Just nine months later, Kamara went head-to-head with five other ice cream innovators on "Clash of the Cones." On the competition TV show, which filmed this past summer and premiered Aug. 16 on the Food Network, six ice cream makers from across the country vied for the opportunity to create a unique flavor for venerable ice cream company Ben & Jerry's.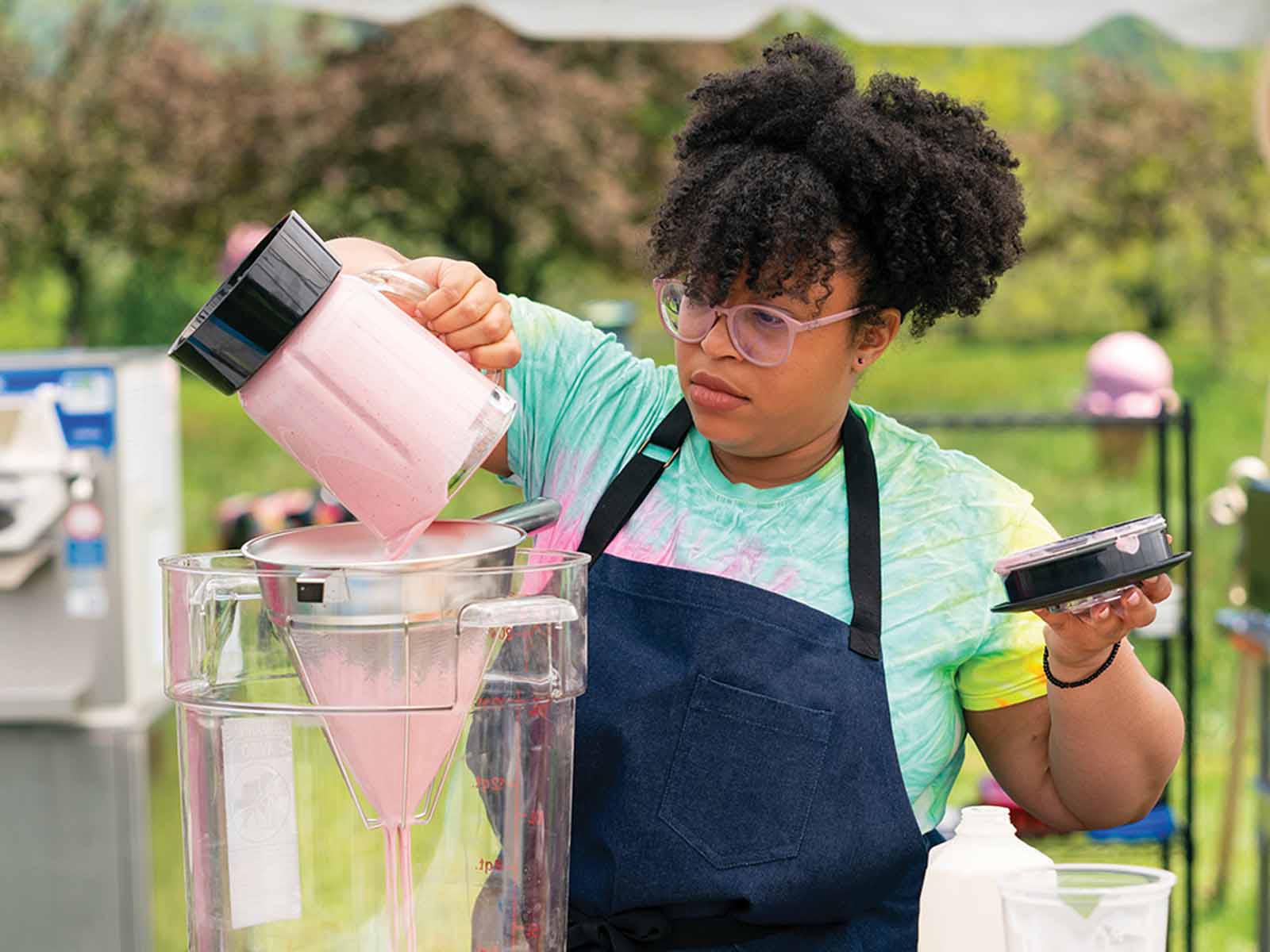 The contestants were first charged with resurrecting a "dearly de-pinted" classic from Ben & Jerry's Flavor Graveyard. That was the easy part, Kamara says. They then were tasked with impressing the judges and a special guest, actor Kevin Bacon, by creating a new flavor on the spot, based on the actor's likes and dislikes and featuring no more than six ingredients. Actually, that part was easy, too, Kamara says.
"As ice cream makers, our minds are always kind of churning out ideas," she says. "Any time that I got a prompt, my brain would automatically start to roll and think of different ideas. I have always been trying to trust my instinct as I've grown up, to go with my gut. … As things moved forward, I was like, I can really do whatever I want and I should take advantage of that."
Kamara won that first episode with a banana-dark chocolate-and-peanut butter-inspired flavor. She won the next challenge, too, creating a flavor for hip-hop icon and actor Chris "Ludacris" Bridges.
"He's one of my favorite people ever," she says. "So that one was just true, genuine excitement. And I feel like that really showed through what I created because it was really important to me that he ate my ice cream. Honestly, I can't imagine how this competition would have gone if I lost that week."
Two weeks later, in the season finale, Kamara and two other remaining competitors were tasked with creating flavors for Ben Cohen and Jerry Greenfield, Ben & Jerry's famous founders. Kamara went with her gut and emerged as the show's inaugural champion.
She was a ball of nerves, she says, going into the series finale, knowing everything that was at stake.
"It was really important to me going into the last week that I really just trusted my gut," Kamara says. "I knew what felt right. And by doing that, I just felt really secure in my decision to make the flavor that I made," a combination of chocolate brownies, toffee blondies, vanilla and dulce de leche.
In addition to Bacon and Ludacris, celebrity guests on the show included Food Network stars Buddy Valastro and Duff Goldman. Kamara says her victory in the second episode — in the "Ice Cream Yum Yum" challenge to create a flavor for Ludacris — was a particularly powerful moment.
When Kamara was announced as the show's winner, she was overcome with emotion. The victory comes with a prize of $20,000 and a featured spot in a Ben & Jerry's Scoop Shop or event in her hometown of Silver Spring, Maryland.
"I've been making ice cream for eight years. I've been running this business for six [as a small-batch ice cream company traveling to farmers markets and other events in the D.C. area]," says Kamara, who recently opened a second RVA shop, Suzy Sno, specializing in New Orleans-style snowballs.
"Entrepreneurship is hard. Ice cream is probably the easiest part of it. But, you know, there were days where I wasn't sure I wanted to continue doing this. And so [winning] has really been a reminder that I'm on the right track and I chose the right thing to do with my life. And that feels great because it's hard to work for yourself and it's hard to build a brand from scratch. So to be able to go on TV and do things where I really shine, not just cooking, but just being able to be myself and not having to apologize for that and being able to win and like being my true self, it just makes everything feel like what I've been doing for the past almost decade has really been worth it."
– Leila Uginčius (B.S.'95/MC) is a contributing writer for the alumni magazine.